Grand Ol' Flag Cookies 
by Carly Cerniglia
If Betsy Ross were a baker, I'm sure she would have made these Grand Ol' Flag Cookies! While I don't recommend overzealous waving of these cookie flags, I do recommend patriotic photo ops and lots of munching. A super simple shortbread recipe and a few lollipop sticks get you an easy, fun holiday treat. And as a bonus, after you enjoy the cookie, the sticks can help you measure social distance!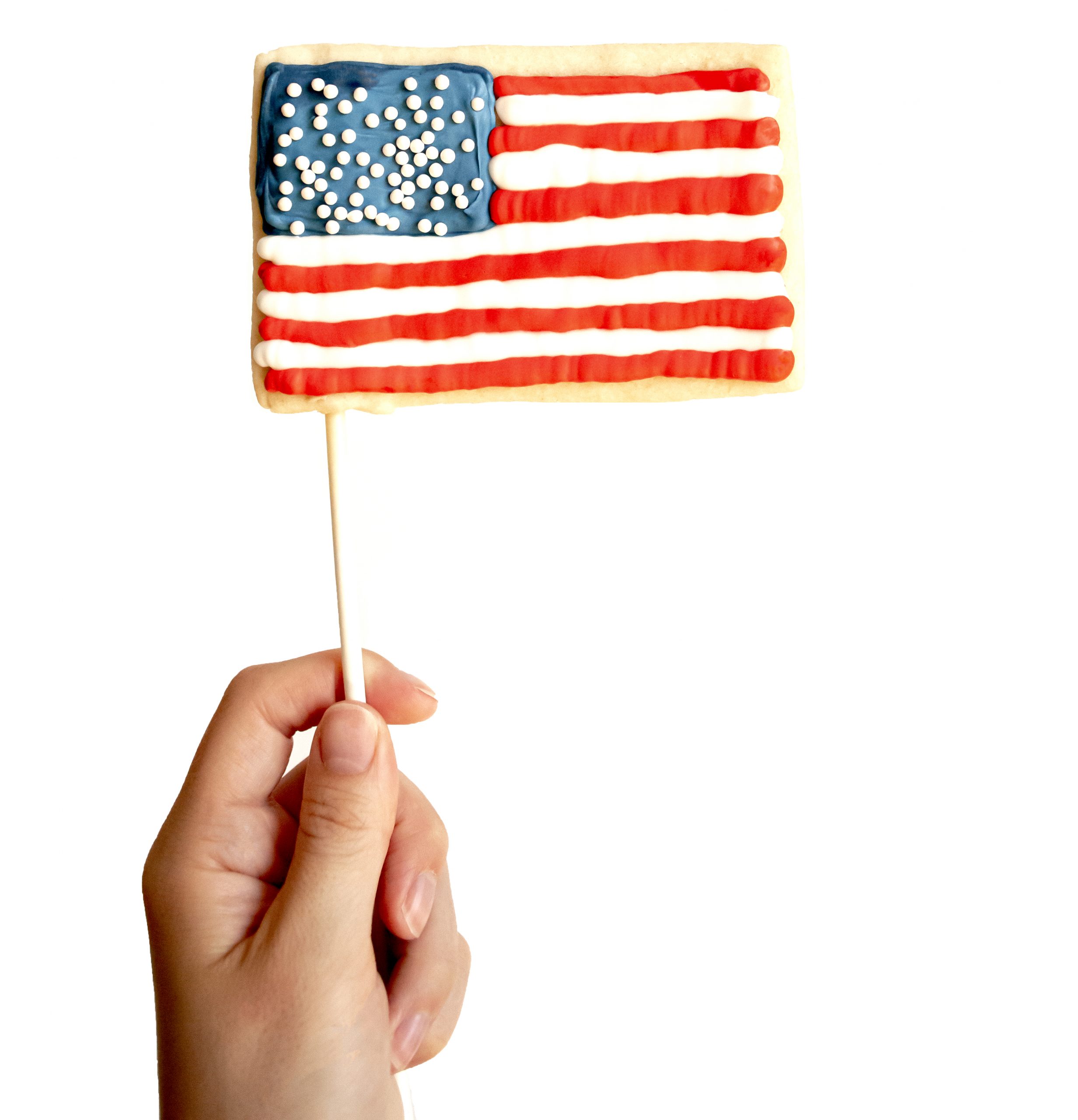 Ingredients:
For the Cookies:
3 ¼ cup flour
¾ cup sugar
1 ½ cups unsalted butter, room temperature 
For the Icing:
4 cups powdered sugar
3 T meringue powder
Food color in red and blue (I used cornflower blue)
5-7 T water (I used 7 on a dry day)
Lollipop sticks
Square cookie cutter (or use a knife)
Piping bags
White sprinkles
Directions:
Preheat oven to 300 degrees Fahrenheit. Place a sheet of parchment paper on a cookie sheet. In a stand mixer, cream butter and sugar. Slowly mix in flour. On a floured surface, roll out dough to ¼ inch thick. Cut out rectangles. Roll scraps into a thinner piece and cut out small strips the full length of your rectangle. 
Place large rectangles onto parchment (about 4 per sheet). Place a lollipop stick on the edge of each of your rectangles to resemble a flag. Press stick gently into dough. Top stick with the thin strips, and press dough together gently. Poke each cookie with a fork a few times to allow for a flat baked cookie. 
Bake for 15-20 minutes. Let cool on the baking sheet for a few minutes, then carefully transfer to a wire rack. 
Whip icing ingredients together on low speed (save the food color) for 10 minutes. Add more water if icing is too stiff. You want it to hold up, but not be too hard to pipe. (It should hold a drizzle shape on the surface of the icing for 10 seconds before melding back into the batch.)
Transfer ¼ of icing into a smaller bowl, and add in blue food color until desired shade is reached. Take out half of the remaining icing and dye red. Transfer your 3 icing colors into separate piping bags. Pipe on your blue squares first, following each square immediately with sprinkles. Then pipe your alternating red and white stripes. Let dry overnight. Transfer to a serving dish or cookie baggies and enjoy!