Countertop considerations
by Anastasia Reetz
Kitchen countertops are a primary feature of any kitchen. Not only do they offer an aesthetic layout to the space, countertops also provide essential workspace. With so many different types and styles of countertops, making the perfect choice to suit your needs, tastes and desires may be somewhat of a challenge. Because countertop selection is one of the most important decisions about your kitchen, it requires thought, understanding and insight. As such, I put together a short list of surfaces to help you navigate the myriad choices available to you.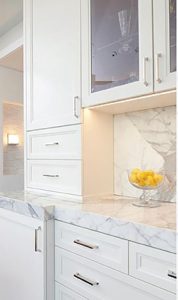 Laminate
TREND ALERT: A leathered finish is one option.
With improved graphics, longer-lasting surfaces, and better edging techniques, laminate countertops are finding their way into more homes. They are much more cost-effective than other man-made or natural products. One of the biggest sticking points was the undermounting of the sink. Traditionally, this has not been possible. But more recently, with high-pressure laminates and waterproof rolled edges, undermount sinks can be successfully and safely bonded to the bottom of laminate countertops.
Marble
TREND ALERT: extending the countertop material up the backsplash.
Marble countertops consistently remain the top choice for many homeowners, primarily because they offer a lovely, natural pattern and colors not typically found in other types of natural stone. As beautiful as it is, marble lacks general durability that's required in some kitchens. It is a more porous stone by nature and requires good sealers to help with staining and a more gentle care since it is a softer stone as well.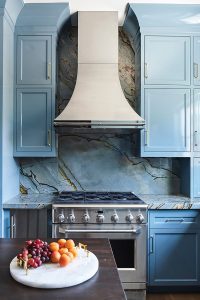 Quartz
Quartz countertops are often called engineered countertops because they are fabricated from natural silicon dioxide and synthetic materials. Loose quartz makes up about 93 percent of the material. It is blended with a binder and pigment and then formed into countertops.
Being a man-made product, it has an advantage in consistency over natural products. Quartz requires very little maintenance. It wipes clean with a damp cloth. Abrasive cleaners should not be used on quartz, and they really aren't needed. Ease of maintenance is the main advantage quartz countertops have over quartzite.
Quartzite
While more expensive than granites, marble and quartz, quartzite countertops have become very popular. It boasts a sophisticated look, natural strength and low maintenance. Each slab will vary as it is uniquely created by nature. Quartzite resists extreme heat and cold and will not burn, scorch, or discolor. If you do have a scratch, it can be easily repaired or re-finished if needed.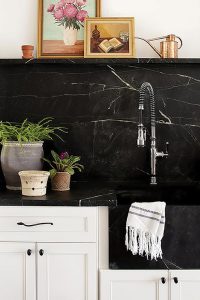 Granite
TREND ALERT: Dark countertops add drama and sophistication.
Granite remains a popular choice in countertops for its beauty, durability and its selection. Granite is extremely hard to scratch and it tends to withstand normal wear and tear of daily kitchen activities. When properly sealed granite can last a very long time, and complement your kitchen in a subtle way or be a showstopper and a center of attention.