Black Forest Cupcakes
by Carly Cerniglia
This month, I was asked to make a cake for my neighbor's mother. Her request was Black Forest Cake and I have never made one before. All the recipes I found were slightly different and not quite what I wanted. So I combined what I found and created these classy cupcakes. With a sweet cherry filling, dark chocolate cupcake, and light whipped frosting, these are oh-so-satisfying. A little gold dust on the cherries took these from ordinary cupcakes to elegant treats. The trick to the frosting is stabilizing it with gelatin. This keeps the frosting from melting so they will last a few days (if you don't eat them all first!). These are a must-make for the chocolate cherry lover in your life.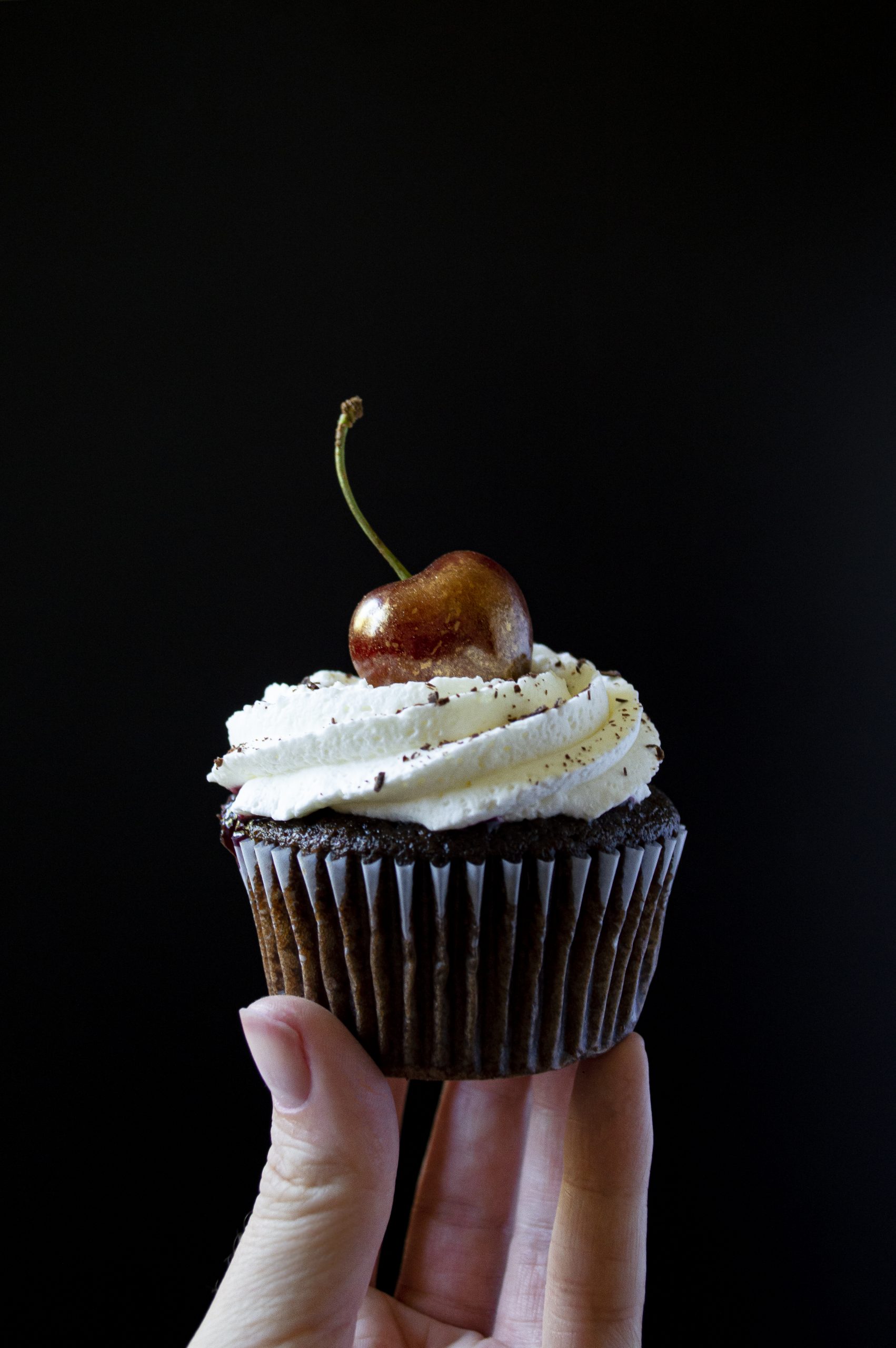 Ingredients:
For the Cupcakes:
2 cups sugar
2 eggs
⅔ cup sour cream
1 cup butter, melted
½ cup heavy cream
½ cup good quality cocoa powder
½ cup strong brewed coffee
2 cups flour
1 ½ tsp baking soda
½ tsp salt
1 tsp good quality vanilla
For the Filling:
4 cups of cherries (20 ounces)
2 1/2 T whiskey
1 ½ T sweet cherry juice
1 tsp lemon zest
1 tsp good quality vanilla
1 ½ T cornstarch
3 ¼ + ⅛ cup sugar
For the Frosting:
3 pints heavy cream
3/4 cup powdered sugar
1 tsp vanilla
3 tsp gelatin powder
12 tsp water
Chocolate shavings
Fresh Cherries
Gold Luster Dust
Directions:
For the Cupcakes:
Preheat oven to 325 degrees Fahrenheit. Line cupcake tin with liners. Mix melted butter with the cocoa powder until smooth. Add in heavy cream and coffee. In a medium sized bowl, mix eggs, sour cream, sugar, salt, and vanilla. Add chocolate mixture slowly to sugar mixture, stirring rapidly to temper the eggs. Once all the chocolate mixture is incorporated, add in 1 cup flour and the baking soda. Stir until mixed. Add in remaining flour until just mixed in. Scoop evenly into cupcake liners. Bake for 20 to 25 minutes or until a toothpick inserted in the center comes out clean. Let cool a bit and transfer to a cooling rack. 
For the Cherry Filling:
In a small saucepan, add all filling ingredients. Heat on medium heat for 10 to 15 minutes or until mixture becomes thick and bubbly. Remove from heat and cool. Refrigerate until cold. 
For the Whipped Cream Frosting: 
Mix gelatin and water in a small bowl. Microwave in 10-second increments until gelatin is dissolved. In a stand mixer, whip heavy cream, vanilla, and powdered sugar until medium/stiff peaks form. Strain gelatin and add to whipped cream with the beaters running. Whip until peaks hold their shape. Do not over whip. 
For assembly:
With a paring knife, cut a small hole in each cupcake, saving the tops. Place a spoonful of cherry filling (make sure to get a cherry in each) into the holes, and close with the saved tops. Pipe whipped cream on top of cupcakes with a star tip. Sprinkle lightly with chocolate shavings. Top with real cherries painted with luster dust. Enjoy!
Store in the refrigerator until 30 minutes before eating
If you have extra filling and whipped cream, enjoy as a parfait or top pancakes with it!