VOTE: IT'S THE ECONOMY, STUPID!


by Karen Nelson
America's wealthiest are doing well, but what about the rest of us? America is the richest country in the world! Before we celebrate, consider in 2020, the black-white wage gap is as wide as it was in 1950! Recent research shows black men made 51 cents for every dollar white men made in 1950 and that hasn't changed. That is largely driven by mass incarceration of black men.
Meanwhile, as of October 2020, there are 614 billionaires–a record high–in the U.S., up from 569 billionaires in October 2016, according to Forbes. The rest of us are not doing as well.
During this pandemic, while unemployment has been a focus, underemployment is also an issue. When a job does not meet a worker's skill level or the number of hours they need to work, this leads to underemployment. It can affect a person's sense of identity, often linked to one's career mental health. While many say simply be grateful to be employed, many are working two or three jobs and are still broke after paying their bills.
Obviously, there are powerful forces at work pushing against racial equity. 54% of African Americans make less than a living wage, which is stagnant for 70 years. It's time to stop growing billionaires while the middle-class collapses and the number of poorest Americans grows! Before the pandemic, there were already 140 million people who were poor or low-income in this country. Since COVID-19, millions now have pre-existing conditions at a time when healthcare expenses are forcing millions of Americans into poverty. 
Some lull themselves into believing Dr. King's "Dream" was realized with the signing of the 1964 Civil Rights Act, dismantling Jim Crow laws and enforced segregation. While the signs of "Colored Only" and "Whites Only" from that era came down, we can drink from any fountain, eat at any restaurant, or check into any hotel (and that is something to celebrate), economic inequality is the same today as when Harry Truman was President. Despite decades of change, we have a long way to go. Racism may target black and brown people, but it undermines our democracy and humanity.
In the months before his assassination, Dr. Martin Luther King Jr. focused on poverty and economic injustice. It was called The Poor People's Campaign. Rev. Dr. William J. Barber, II and Rev. Dr. Liz Theoharis picked up the mantle as Co-Chairs of today's  Campaign. It is a broad-based rainbow coalition of poor and low-income people and their allies. Rev. Barber says we need to have "Righteous Rage" to combat these six inequities:
Systemic Racism
Systemic Poverty
Ecological Devastation
Denial of Healthcare
War Economy
Religious Nationalism – a false moral narrative that seeks to consecrate evil in the name of The Lord
Go to www.poorpeoplescampaign.org to learn M.O.R.E. (Mobilizing, Organizing, Registering, Educating).
In the 2016 presidential election, 138 million voters elected our current President out of 225 million eligible voters. 34 million low-income people who were eligible did not vote. In Wisconsin, the margin of victory was just 20,000 votes with 460,000 low-income non-voters of all races. Just a small uptick, say 5%, in the number of low-income voters could change the political calculus of our state and this nation.
We have same day registration in Wisconsin. You'll be able to vote after completing on-site registration at the polls, so be sure to take your proof of residence and photo ID.
VOTE! The polls will be open 7am-8pm. Follow election results here: https://www.appleton.org/government/city-clerk/elections
After his marches in Selma and Montgomery, Alabama Dr. King left us his formula for success. Read the last book he penned, "Where Do We Go from Here: Chaos or Community?"
Let us choose Community, because we are BETTER TOGETHER!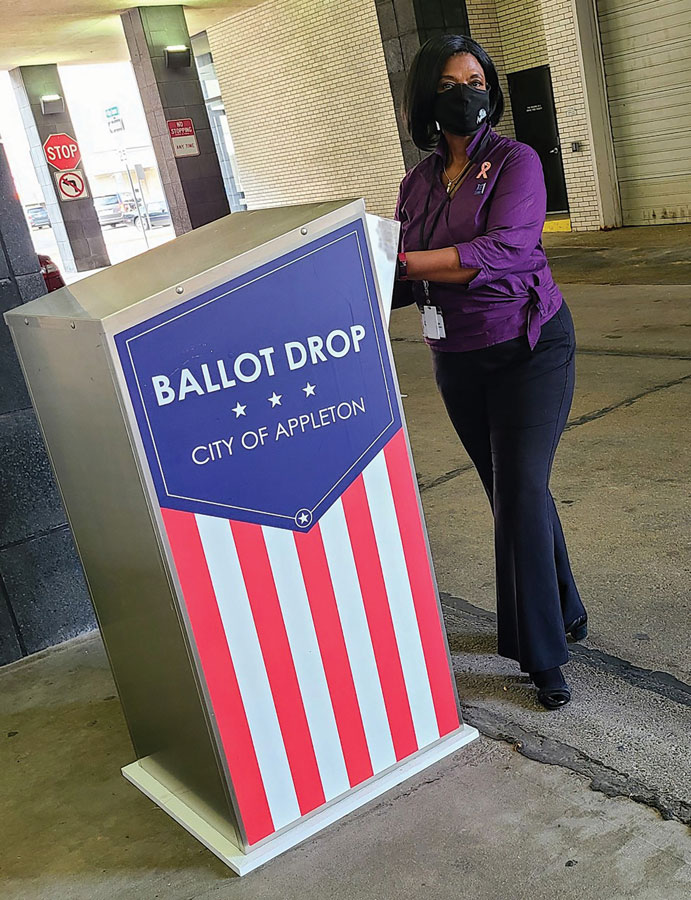 Drop boxes are available for returning absentee ballots at each Appleton Fire Station. This one is in the breezeway of City Hall. Fire Station drop boxes will be available through November 1. The City Hall drop box will be available through November 2. On Election Day, November 3, all ballots will need to be returned to the proper polling place. ​ All 15 polling places will be open in Appleton on Election Day.