Dublin Coddle

by Chef Carly Cerniglia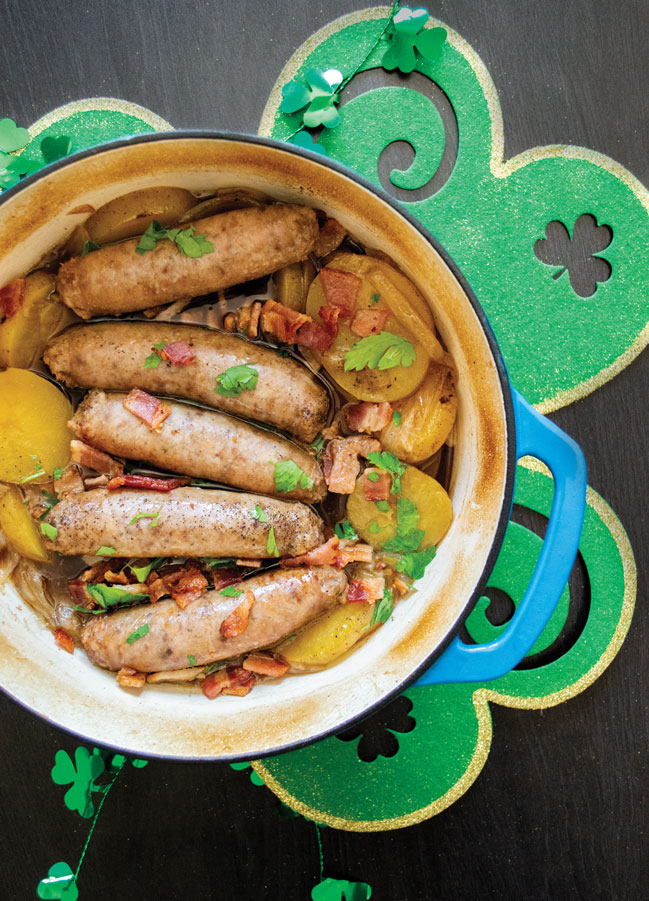 This hearty Irish stew is perfect to serve up this St. Patrick's Day! A piping hot bowl of savory sausages and tender potatoes, all cooked up in a beer-broth is sure to warm up the hungry eaters at your table. An extra special sprinkle of crisp bacon makes this dish a winner for an easy weeknight dinner as well.
Ingredients:
 5 brats
2 slices bacon, chopped
4 medium, palm-sized, Yukon Gold potatoes, sliced thick
2 white onions, sliced thick
1 can chicken broth
1 Irish lager
Parsley, finely chopped
2 bay leaves
1 garlic clove, chopped
Preheat oven to 350 degrees Fahrenheit. Fry bacon in a Dutch oven or a soup pot with a lid until crispy. Remove from pan and set aside. Add brats to the pan. Allow to seat and caramelize on each side. Remove.
Add onions to the pan along with a few splashes of chicken stock. Stir. Cook until fragrant. Toss in potatoes. Add in remaining broth, lager, garlic, seared brats, and bay leaves. Season with salt and pepper.
Cover, be sure to use a Dutch oven with a heat-proof handle, and put into oven for 1 hour, or until potatoes are tender.
To serve, sprinkle with parsley and bacon.
Enjoy!