To Rugs, with Love

by Carrie Meier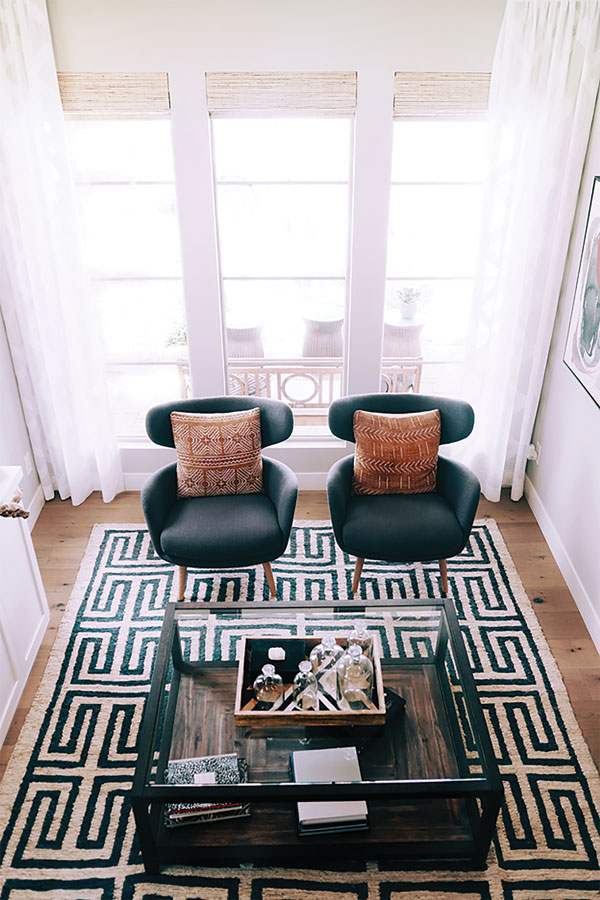 My husband and I love to design together. Even before our business, we spent years working side-by-side renovating our home top to bottom. He's an incredible design partner, boasting great vision with every talent of a master craftsman. I'm so lucky to have a partner who not only endeavors but DIGS IN on the endless creative projects I throw his way. But we disagree. He thinks lighting makes a room. While a fresh fixture does wonders, I think the unsung hero of a well styled space is none other than the almighty rug.
The right rug offers the intrigue of texture, a definition of space, a splash of color, and a clear affirmation of style. With endless options, distributors, and price ranges, the perfect rug exists for everyone. I love that.
Let's talk texture. Whether layering on top of carpet (totally okay to do!) or softening a hard surface, texture is a game changer. A combination high pile/low pile (HP/LP) rug is trendy (high pile is long loops, large knits, and chunky, while low pile is short fibers and tight weave). When laid out, a combo HP/LP rug adds tremendous visual interest and is universal in style. From traditional, modern, boho, farmhouse, you name it, an HP/LP rug is a safe bet. As far as composition affecting texture, wool rugs are great — naturally stain resistant with the ability to create incredibly detailed textured patterns. Low pile polypropylene indoor/outdoor rugs are king in dining areas. This hard-wearing, wipeable, stain-resistant material is resilient against the gauntlet of hearty meals, open-mouth chewers, and busy elbows dancing amidst open-topped cups.
Definition of space. Many default to a 5×7 because it "seems" like the right decision. It may not be. Larger rugs do wonders for widening spaces, making even the smallest areas statelier. In open concept spaces, or if furniture is "floating" (not placed against a wall), it's best to use a rug big enough to invite all parts and pieces on board. Letting the rug define the space, not the back/sides of your couch, creates a grand feeling. Dining rugs should be large enough for all chairs to fit (pushed in or out). This prevents damage to the edges of your rug due to constant traffic of moving chairs.
Finally, color and style. I've installed neutral rugs infusing a spa-like Zen, and it's heavenly. I've used bold, colorful masterpieces taking everything to the next level. There's no set rule for what will perfect your space. All said, don't hesitate to have fun (modern abstracts and metallics are totally in right now). Indulge! Rugs are easily switched out (budget depending), so roll out the threads and make a statement!
Did I win you over to Team Rugs? It was worth the try. Truly, the people and memories within the space are your best design components. Or maybe it is truly the lighting, who knows … love you, honey. From my home to yours, be well, and happy spring!