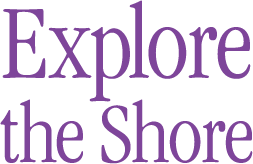 Want to get away? Looking to take the road less traveled? A scenic drive on the east shore of Lake Winnebago awaits the adventurous traveler wishing to explore. An area rife with history, Lake Winnebago is the largest lake in Wisconsin and has been known for the breathtaking views of sunsets that span across the water. The greater region surrounding the lake was formed by the Niagara Escarpment that runs from eastern New York at Niagara Falls through Canada and the Upper Peninsula of Michigan before moving south and shaping the "Wisconsin Ledge" from Door County down to Lake Winnebago.
Driving out of Appleton on Wisconsin Highway 114 East, you will first encounter High Cliff State Park. Aptly named, this is the only state-owned recreational area on the lake and is situated in the north-eastern corner near Sherwood. Visitors to this gem of a park can hike on over 18 miles of trails or up the 40 foot observation tower which offers spectacular views of the villages surrounding Appleton. You can also see the 12-foot tall statue of Chief Red Bird of the Winnebago (now Ho-Chunk) tribe or the 9 effigy mounds that were built by a nomadic tribe over 1,000 years ago. These mounds take the shape of common animals and geometric shapes and can be seen on a single marked trail through the woods.
Travelling south in Calumet County, you will tumble through rolling hills and the scenic beauty of the countryside. Calumet County was named after the French word calumet, which is the name of the ceremonial pipes used by the Native Americans that settled in the area. These pipes were instrumental during their peace councils and are commemorated on the Calumet County flag. Two tribes from New York, the Brothertown and the Stockbridge-Munsee, were relocated by the US Government in the early 1830s forming the present day towns of Stockbridge and Brothertown. Nowadays, Stockbridge is known as "The Sturgeon Capital of the World" and plays a prominent role in the annual sturgeon harvest on Lake Winnebago. A few miles away from Stockbridge lays Calumet County Park, consisting of 230 acres of hiking and biking trails as well as numerous RV and primitive camping sites. Calumet County Park also contains a group of 6 effigy mounds and is listed on the National Register of Historic Places along with the High Cliff Mounds.
Continuing south on Highway 151 takes you to Brothertown and into Calumetville and Pipe. You will begin to see numerous windmills dotting the landscape as the relief and exposed edge from the escarpment leads to wind speeds averaging around 15-20 miles per hour and can provide electrical power to 36,000 homes.
Columbia Park is located at Calumet Harbor near Pipe and has a 70-foot observation tower offering outstanding views over the harbor and lake. Adjacent to Columbia Park is Shaginappi Park which contains 100 acres of wetlands, lakeshore, woods, and prairie with hiking trails.
Aside from the natural beauty of the land, the east shore of Lake Winnebago has a treasure trove of supper clubs and unique shopping experiences. In fact, Calumet County boasts that it is the "Supper Club Capital of the Midwest".   However, don't count out Fond du Lac County as the sunset views are just as breathtaking in the south-eastern corner of the lake. The following pages review a few of these exceptional locations allowing you to plan a wonderful trip down the east shore of Lake Winnebago.
Ziegler Winery
Ziegler Winery was opened in 2015 and has expanded to almost 7,000 vines on 12 acres that were all planted by hand by family and friends. Their tasting room is open year-round to adults age 21+ and no reservations are needed. A large, outdoor patio overlooks the vineyard and offers live music every Friday, Saturday, and Sunday. Their enclosed patio offers a more intimate experience, and a Wine Walk takes you through the woods following a winding stream. A limited menu of food and beer is available, and you can return for your favorite bottles anytime with curbside pickup. Ziegler Winery is closed Mondays and Tuesdays. They are open from Noon to 6:00 p.m. on Wednesday, Thursday, and Sunday with extended hours from Noon to 8 p.m. on Friday and Saturday.
The Little Farmer
Family owned since 1866, The Little Farmer brings visitors back to a simpler time with the rustic charm of an old-fashioned farm. Open August through the end of November, guests can pick their own apples and enjoy fresh kettle-made caramel and other hand-made bakery items. Take a tractor-driven hayride through the orchards and woods or find your way through the six-acre corn maze. Children can also feed goats or watch the chickens and peacock families. Crafts and other goods are available in the craft barn. Dogs are welcome on leashes and there is no admission fee, so return as often as you'd like.
LaClare Family Creamery
Founded in 1978, LaClare Family Creamery has positioned itself as a 100% domestically produced goat cheese manufacturer. All products are made with their Wisconsin milk supply and include award-winning Evalon, Chevre, and Chandoka cheeses. LaClare Family Creamery prides itself on providing education about goat milk and cheeses and there are plenty of opportunities for the family to learn at the farm and garden center. Self-guided tours to explore the behind-the-scenes process of cheese making are open Monday through Friday from 9 a.m. to 5 p.m. Stop in at the Café and Shoppe afterwards for a sandwich, salad, or ice cream dessert. It is open from 9 a.m. to 5 p.m. Monday through Saturday and 9 a.m. to 4 p.m. on Sundays. Don't miss "Breakfast on the Farm" on Sunday, June 27 from 8 a.m. to Noon.
Jim & Linda's Lakeview Supper Club
Located at Calumet Harbor in Pipe, Jim & Linda's Lakeview Supper Club offers dining at its finest! With an elegant setting and delicious three course meals, the restaurant is about 30 feet from the shore of beautiful Lake Winnebago. Their outdoor patio is open during the summer and is boat accessible. The patio features a beautiful view of the lake and is the perfect spot for sunset diners. Jim and Linda's offers an extensive menu specializing in prime rib and seafood, including Alaskan King crab and South African lobster tail. They are open six days a week, Tuesday through Sunday, opening at 4 p.m. on weekdays and 3:30 p.m. on weekends.
Dale & Candi's Cedar Lodge Restaurant
Cedar Lodge Restaurant has been a mainstay on the east side of Lake Winnebago since Dale and Candi opened their doors in 1988. Their menu ranges from homemade breads and soups – the cold strawberry soup is a must try – to their juicy steaks and succulent shellfish. All dishes are prepared to order with only the freshest and finest ingredients and all dinners start with their famous Fritter. They are open Wednesday through Saturday starting at 4:30 p.m. and offer Sunday breakfast from 8:30 a.m. to 1:30 p.m. Guests must make a reservation to eat inside. However, you can enjoy a drink on the patio or carryout orders are always an option.
Sunset on the Water Grill & Bar
Since 1981, Sunset on the Water has been known as the "The House of Prime Rib". As the name implies, their picturesque view of Lake Winnebago harkens the visitor to come dine with them. The scenic lake views never fail to impress, from their tranquil dining room as well as their spacious, yet intimate lounge. Sunset on the Water features their house specialty prime rib daily. You can also find tantalizing appetizers, burgers, pasta and stir fry options, steaks, and specialty items, along with a kid's menu. They are open seven days a week from 11 a.m. to 10 p.m. Dine-in and carryout options are available, and they have banquet facilities serving groups of 10-50 people.
Harbor Bar & Grill
Located at Stockbridge Harbor, The Harbor Bar & Grill combines remarkable sunsets and lake views with a casual atmosphere. The restaurant is accessible by boat and there are ample dining options including an inside dining area, two bars, and the outdoor deck. Their menu features burgers, sandwiches, pizza, steaks, and seafood as well as daily specials with $3 burgers on Wednesdays and $19.99 steak and lobster on Thursdays. Live music is offered most weekends on the outdoor patio and banquet facilities are available for up to 80 people inside or out. Harbor Bar & Grill is open Wednesday to Friday from 3 p.m. 9 p.m. and Saturday to Sunday from 11 a.m. to 9 p.m.
Schumacher's Shanty
Schumacher's Shanty specializes in homemade pizzas using a delicious no-edge, self-rising crust. Try out the Shanty Deluxe or Schumacher's Signature pizza or build your own with an assortment of toppings. You'll also find subs, wraps, and "Texas sized" sandwiches served on toasted French bread with garlic herb butter. Enjoy the atmosphere inside the bar while watching your favorite team or outside on the large deck. Schumacher's Shanty is closed Monday and Tuesday. They are open from 3 p.m. to 11 p.m. on Wednesday and Thursday and from 11 a.m. to 11 p.m. Friday and Saturday, as well as 11 a.m. to 9 p.m. on Sunday.