Jocelyn Kleiber, Lawrence University Hockey Coach
by Tim Froberg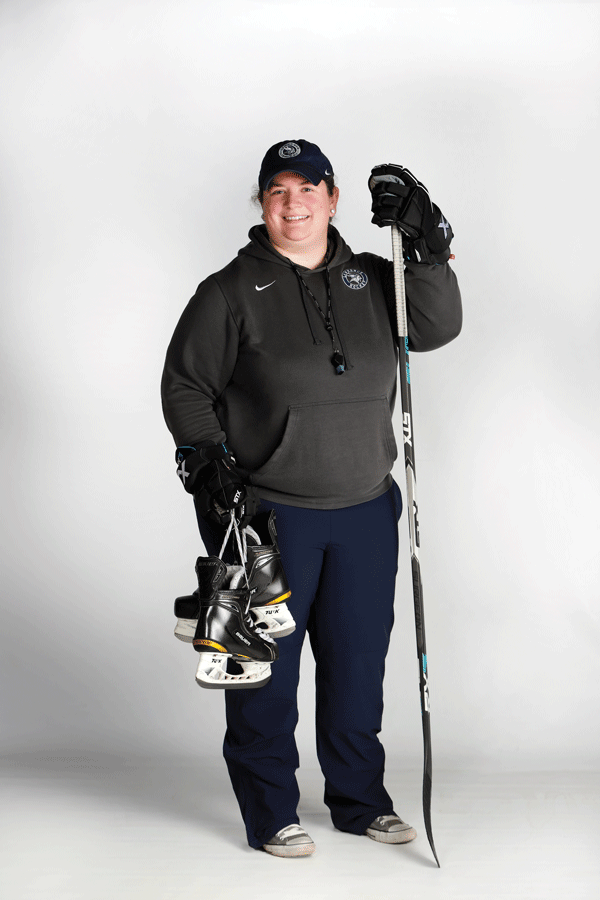 Jocelyn "Jocey" Kleiber grew up in hockey country, so it's no surprise she quickly developed a fascination with the game. Her love of hockey led to a playing and coaching career on the ice.
The Edina, Minn. native has started her second season as the women's hockey coach at Lawrence University. Women's hockey is a new athletic program at Lawrence, debuting during the 2020-21 season.
Kleiber arrived at Lawrence after three seasons as an assistant women's hockey coach at Stevenson University in Baltimore. She played four seasons of Division 1 hockey at Niagara University as a defense man before entering the coaching ranks as a varsity assistant at Bloomington Jefferson High School in Minneapolis. She then served as a graduate assistant for the women's hockey program at Robert Morris University – where she received her master's degree in organizational leadership – and coached for a year at the North American Hockey Academy.
What's it been like trying to launch a new athletic program?
"It's definitely challenging. Our academic standards are a little different than other schools. We have to target higher academic-achieving athletes. What we try to get recruits to buy into is that we offer great academic programs."
How did the first year go?
"It was the type of experience you can't teach during practice. I was very grateful and appreciative of how our AD and our former president (Mark) Burstein pushed for us to compete. Our inaugural class got that game experience you really need and learned little details, like how to prepare for games and how we do things as a team."
What do you hope to accomplish this season?
"I'm definitely hoping to get that first win. I can see us getting maybe between five to 10 wins because there are some teams we stack up well against. Off the ice, I want us to have the highest team GPA for women's sports."
How would you convince an on-the-fence fan to come to a game?
"I think they'd really like the speed and skill. We can't outright check like the men do, but the cool thing about women's hockey is that it's more of a skills-based game. You have to learn how to take away time and space without illegally checking somebody. We still allow body contact, so it still can get pretty physical."