Keep Calm and Cozy on!

by Carrie Meier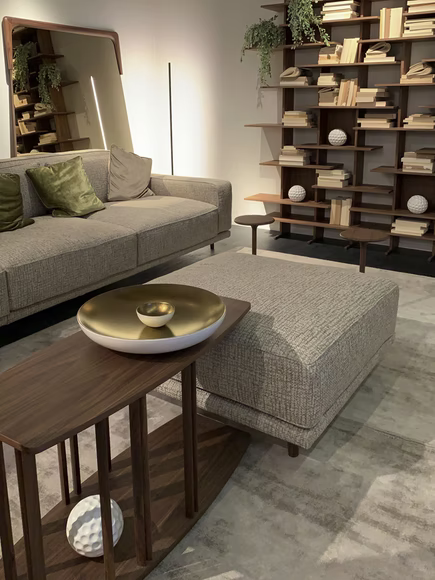 We're Wisconsinites. We winterize like we eat cheese, care about our families, and cheer on our home teams. There's no task too tall and no temperature too low for our breed. So, when we're faced with another season of cool Yuling (let's be honest, glacial gelidness), let's focus on how to winterize our interior design, aesthetically insulating ourselves from those bullying wind chills.
Idea #1 Thaw out with soft touches, literally. Shag rugs, texture rich throws, and soft-knit sweater pillows will pad all the parts and pieces snuggling in for overtime this winter. Materials like faux fur or velvet are excellent in softening up any space, so integrate them if you can. Ensure those slippered feet land someplace soft by switching your coffee table for an upholstered ottoman.
Idea #2 Let that Glow Flow. The added time spent in darkness during winter can grind on a person. Survey your space, combing it carefully for dark spots. Lighting up that dark corner or adding a warm sconce to a place where the sun used to sit delicately, can feel like a real cup of tea when it's pitch black at 4 p.m. Switch out patterned or dark shades for bright, soft, white ones and choose warm light bulbs. Add mirrors where you can, to help carry light throughout the room.
Idea #3 Create a cozy opportunity. Clean out or organize an underused corner and create a comfy reading nook. Splurge on a chair that makes you and your hiney feel loved and supported in all the right ways. Choose art, a lamp, and a side table that are just right. Add a humidifier with essential oil diffusing capabilities and plug into your favorite scents while fighting off dry air. Then, find a magic lamp, rub it, make your first two wishes but reserve the third for the revelation of time in your day to use said reading nook. Finally, bring cookies along because, heck, you just found time to not only make a nook, but you made time to read and That. Is. Worth. Celebrating.
Idea #4 Order your warm-based neutrals straight, no ice. The cool tones that brought down the heat of summer are now chillin' your vibe in all the wrong ways. Choose warm neutrals instead, for an overall zen-inspired feel. Don't pick dark colors or too many dictatorial patterns. If there's an abundance of things happening visually, the space becomes heavy, busy, and loud. Our lives may already be those things (especially during the holiday season), so we don't have the desire to listen to extra noise from our soft lines and paint colors. Sprinkle in lush warm metallics for an upscale touch and add greenery (faux or living) to remind yourself, this too shall pass.