Beer vs. Wine

by Steve Lonsway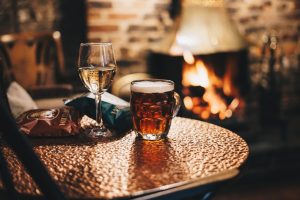 One event that has a special place in my heart is the famous Stone Arch Beer vs. Wine dinners that we have done over the years. We ceased these events due to COVID, but are working towards resurrecting them in 2022.
The concept is simple: we prepare a gourmet four- or five-course meal and stage it for guests over two hours. When the servers present each course, the chef comes out and discusses what went into the preparation of the dish, historic information, where the ingredients were sourced and any related fun facts.  
We then have a wine representative from one of our distributors pair a wine with the dish. They also talk about the historic relevance of the wine, the growing regions, and some background of the producing winery. They then go on to defend why they feel the wine pairs better with the dish in a fun, yet direct way. 
Of course, beer is involved! Someone from the Stone Arch Brewery team will choose what beers should pair best with the entrees and will also present their reasonings to the guests. We'll discuss the ingredients, the sources, the techniques as well as the historic relevance of the beer style. We then defend why we feel the beer is the clear choice to best pair with the plate.
When the presentation for that course is done, we pass out ballots to the guests and have them vote as to which pairing worked best for their palate. We then ask for a volunteer from the crowd that voted for the wine, as well as someone who voted for the beer, to explain why they think their choices were the better pairing option. We tally the votes and present them, course by course, to the guests.  
After the final course, we tally up all the votes and declare the winner, beer or wine.  Through our many years of hosting this event, wine holds the overall edge, but as time went on, beer was certainly making a comeback.
The objective of this event is to let people learn for themselves that wine and beer both play a major role in food pairings. The event ends up being a great learning experience through which people might eat things they normally wouldn't have tried. This also goes for the beers and the wines. Guests often taste beers and wines they normally don't consume and find new favorites. Because of the super-interactive approach we take, our Beer vs. Wine event ends up being a great time for everyone involved. New friends are made, new libation connections are made, and wonderful food is consumed!
This is something you should try at home. It's a great event for friends, families, and co-workers.