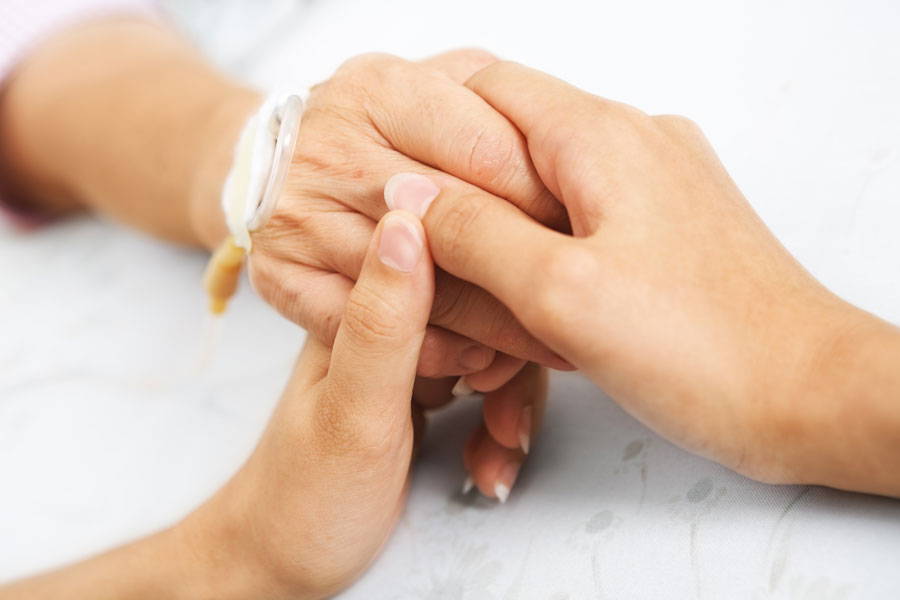 Through comfort comes strength, hope, relief, and joy, especially at the end of life. Support from ThedaCare donors helps to bring comfort to hospice patients at their bedside through the ThedaCare Hospice Foundation. From fulfilling the Hopes & Dreams program to providing access to massage and pet therapy, donors truly make a difference for our hospice patients in their end-of-life journey.
ThedaCare Hopes & Dreams Teams fulfill final wishes for our hospice patients whether it is a special event experience, an anniversary celebration, or a recorded message to loved ones – these thoughtful touches help families find peace, create memories and celebrate their remaining time together.
The gentle touch of massage therapy can work wonders for calming anxiety, fatigue, and nausea as well as ease the pain, discomfort, and separation that comes with a life-limiting illness. In turn, patients are more coherent, comfortable, and cordial as they spend time with loved ones. Pet therapy also provides meaningful interactions to patients on hospice and positive outcomes include reduced stress and anxiety, lowered heart rate, and subdued feelings of depression.
Thanks to our donors, these programs are free of charge to patients entering their final chapter so they can focus on the most important moments with their loved ones.
If you would like to make a gift to enhance the quality of life for our hospice patients, please visit www.thedacare.org/donate or send your donation to 1818 N. Meade St. Appleton, WI 54911.
NAMI Fox Valley Offers Hope & Help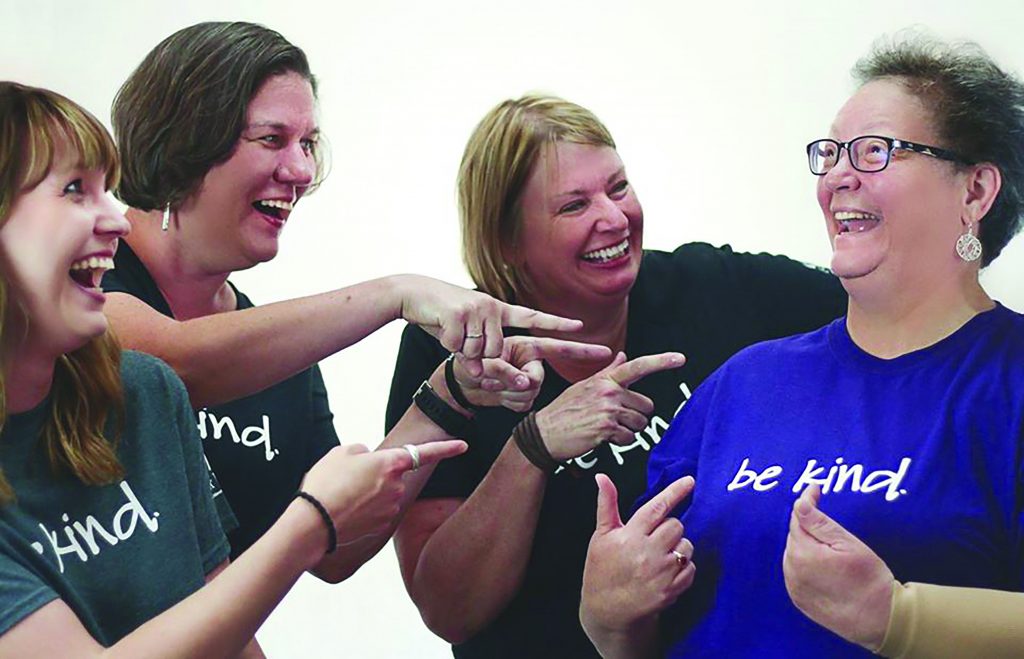 For individuals and families navigating mental health challenges in the Fox Valley and surrounding communities, NAMI Fox Valley's programs often offer a lifeline. The agency, an Appleton-based affiliate of the National Alliance of Mental Illness (NAMI), facilitates dozens of support group meetings each month, offers a wide variety of mental health education opportunities, and operates a peer run respite center, Iris Place, for individuals struggling with their mental health.
When Covid-19 forced NAMI FV to suspend in-person programming in mid-March, the agency knew that its services were still needed (indeed, perhaps more than ever) and was able to quickly pivot to offering support and education online.
Currently, the agency is offering over 30 support group meetings each month via Zoom. Some meetings are for individuals experiencing mental health challenges themselves and others are for individuals who have a family member living with mental health challenges. Additionally, the agency has begun to offer mental health education via Zoom – including an upcoming 8-session "Family to Family" course for family members looking for tools and information as they navigate a loved one's journey with mental illness.
And although Iris Place is not accepting guests at this time, the center's warm line is operating 24/7. Individuals experiencing mental health challenges can call the warm line at (920)815-3217 to speak with a peer companion who has their own experience with mental illness and can provide an empathetic listening ear.
To learn more about NAMI Fox Valley's programs, visit the agency's website www.namifoxvalley.org or call 950-954-1550.
Building Confidence Through Theater is Romenesko's Joy
by Tim Froberg
As head of Xavier High School's acclaimed theater program, Jim Romenesko is responsible for turning scripts into polished productions.
Still, it's only a small segment of what he does.
Working with students to develop the confidence necessary for success on stage and in life – while helping nurture a love of the performing arts – is a much larger part of Romenesko's job.
The 1976 graduate of Kaukauna High School has been Xavier's theater director for the past 22 years. He has directed more 90 shows at the school, including challenging productions like "The Phantom of the Opera," "Fiddler on the Roof," "Beauty and The Beast," "Guys and Dolls," "Joseph and the Amazing Technicolor Dreamcoat," "Hello, Dolly!" and "Shrek The Musical."
Romenesko oversaw the planning of Xavier's Fine Arts Center and is a distinguished faculty member, receiving the school's Honorary Alumni Award in 2018. He runs a busy and ambitious department that usually tackles eight or nine productions annually.
"We have a great time," said Romenesko. "We laugh and work hard. I tell the kids, 'You had better enjoy the work of rehearsing because you're probably going to rehearse three or four hours for every second you're on the stage.' But they love the work."
So does Romenesko, who previously worked as a show supervisor and director for productions and acting programs at Six Flags Great America prior to starting his full-time job at Xavier in 1997.
"The productions we put together don't happen because of luck," Romenesko said. "There are a lot of details to work out. We work hard to develop the administrative end with things like advertising, and it can get to be a lot. But when you get to work with the kids, it's so worth it.
"I appreciate some of the accolades I've received here, but it's because of what the kids are doing and it's just an outstanding group of kids."
Romenseko isn't a my-way-or-the highway type of director. He encourages students to make suggestions to improve the production.
"With us, it's about collaboration," he said. "They come up with ideas and aren't afraid to express their views."
Romenesko also understands that he's working with teens – many of whom are dabbling in theater for the first time – and not professional actors.
"We have a big poster here that says, 'Try, fail, try again, fail, try again, succeed," said Romensko. "On TV, you might see a director working with high school kids who is anguishing over every line they deliver. That doesn't happen here."
What gives Romenesko the most satisfaction is seeing the spike in confidence and personal growth of his students.
"There's such a gain in confidence," he said. "It's like a springboard for them. They don't always go into theater, but it's nice to see a lot of them having success in their endeavors. They come back to see the shows and support the younger kids."
Romenesko proudly points out that one of his former students, John Paul Geurts, went on to become a vice president and creative director at Nickelodeon, while another, David Bushman, was selected as the dance captain for the international tours of "Chicago." Another, Mark Byrne, became an editor at GQ magazine.
"It's the life lessons that come out of theater that are so valuable, even if they don't go on to perform at another level," Romenesko said. "I'm so proud of these kids."