The Flavors of Vietnam (and Mom's cooking)
Location
Tony Nguyen Vietnamese Cuisine
555 North Casaloma Drive, Grand Chute
 If you're anything like me, you're always on the lookout for new restaurants here in Appleton, and Tony Nguyen Vietnamese Cuisine is an exciting option. Taking over the spot formerly occupied by Wildflower Pizza on North Casaloma Drive in Grand Chute, owner Tony Nguyen has transformed the space into a comfortable, casual, and affordable place to sample something new or enjoy something familiar. The restaurant opened in January of 2020, and has found its rhythm and its niche, providing warm and friendly service along with an extensive menu that showcases Pho, the signature Vietnamese noodle soup.
Chef and owner Tony Nguyen spent ten years cooking throughout Europe, in Prague, Paris, and Berlin, before moving to Appleton five years ago. His goal for this, his first restaurant, was to give Appleton something special and diverse, combining fresh, healthy, and clean ingredients into tasty Vietnamese cuisine that pays homage to his mother, an expert chef whose love and sacrifice Tony remembers with every dish.
On a recent visit to Tony Nguyen, my dining companions and I started off with Vietnamese coffee, a sweet drink served cold or hot; an avocado Boba tea from the extensive list of flavors; and a coconut smoothie with subtle, not overly sweet flavor. In addition to the smoothies and Boba tea, the restaurant offers wine, beer, and a full bar specializing in tropical drinks. (Tony Nguyen recommends the Brother John.)
We moved on to an appetizer sampler featuring crab rangoons, summer rolls, and our favorite, the pork dumplings which are very gently deep fried for a lovely contrast with the tender, savory pork filling. The summer rolls were bursting with fresh flavor, and each one had a whole shrimp and a crispy rolled wanton "stick" inside for a rather different take from most spring and summer rolls I've tried.
Tony Nguyen's entrée menu offers something for everyone, whether you're familiar with Vietnamese cuisine or totally new to it. Try the Pho, or go for fried rice, lo mein, entrees featuring beef, chicken, pork, and seafood, or something from the enticing list of Vietnamese street food. There are also many vegetarian offerings. Tony Nguyen says that the dishes he would recommend to a first-time visitor are Pho, Banh Mi (Vietnamese sandwich), Banh Xeo (Vietnamese pancake), and Bo Ne (sizzling beef).
Entrees range in price from $8-$20, and the portions are large enough that most people will walk out with leftovers to enjoy later.
Taking Tony's advice, I ordered the Vietnamese pancake, and it was presented so beautifully, I almost didn't want to eat it. Almost. The pancake, entirely new to me, was a crispy, wafer-thin crepe, made from rice flour and turmeric, and stuffed with vegetables and pork. The dish was so good it made me want to try every item in the Vietnamese street food section of the menu.
Other entrees we sampled were the teriyaki tofu and the house special scallops. Both dishes were expertly crafted stir fry served with steamed rice and an abundance of color and style. Every dish we tried at Tony Nguyen was a feast for the eyes and the stomach.
Tony Nguyen Vietnamese Cuisine is open from 11 a.m. to 2 p.m. and 4-9 p.m. on Monday, Wednesday, Thursday, Friday, and Saturday; from 12-7 p.m. on Sunday; and closed on Tuesday.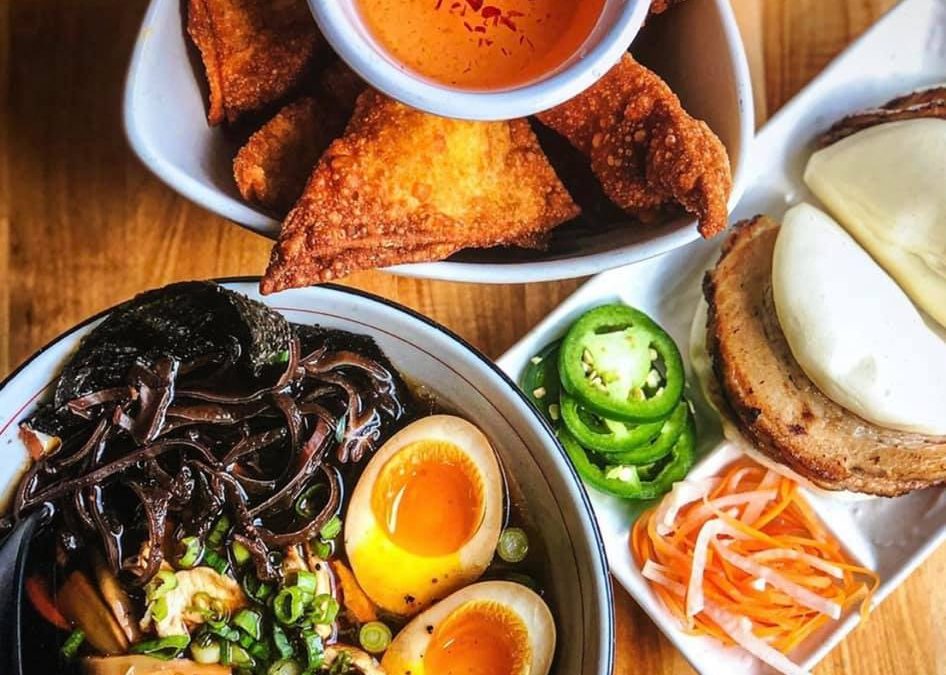 Bringing People Together One Bowl at a Time
by Jamie LaFreniere
Location
Bowl Ninety-One
100 East College Avenue, Appleton
(in City Center)
Yee and Thong Lee are the perfect example of hard work paying off. The young couple now owns two restaurants in the Valley, Bowl 91 in downtown Appleton, and Big Pot & Grill on Calumet Street.
"Without the amazing staff, we couldn't do all of this," says Yee. "We train our staff so they can cook the full menu and provide good service to everyone who walks through our door."
This philosophy is a family tradition learned from Yee's mother Mai, owner of Mai's Deli. They worked with her for six years, but Yee also spent that time working at the library and finishing her degree.
While Yee worked at the library, she would often enjoy lunch at C.S.I. in City Center. The small cafeteria-style restaurant went up for sale, and Yee and Thong saw an opportunity. They revamped and opened as City Café.
The five-day work week and existing reputation was an easy win for them, and they were able to add curry and noodles to the menu. They also did the Farmer's Market downtown and offered Asian-inspired tacos. Many will remember Mai also got her start at the Farmer's Market with her stuffed chicken wings.
After two years of success, the couple was ready for something bigger. They traveled around the country looking for popular items, and settled on ramen, staying in California to learn traditional preparations and recipes.
When it came time to choose a space, Yee didn't need to look far, and settled on the space right across the hall from City Café. Along with making the space their own, they needed to make the food their own. "We took the food we grew up with, Hmong and Thai food, and mixed it with Japanese cuisine," says Yee.
And that nod to their heritage is present in all they do, even in the name of the restaurant. "1991 was the year my family came here as refugees. And our meals are served in a bowl or family style, so we can be creative."
She's right about the creativity! Where else are you going to find Beef Bulgogi Tacos? The beef is sliced thin, marinated and grilled, then topped with spicy kimchi. The entire menu is filled with fusion dishes that highlight the best of various cultures.
But the real focus of Bowl 91 is their ramen. "We are fusing the different Asian spices and flavors together. We put a lot of thought and passion into our cooking, and we're proud of what we serve."
With pride comes dedication, and their menu is very labor intense. Yee explains, "We roll every single pork belly. It needs to simmer for 10 hours at low heat, so someone must always watch it. You can't skip a step." Their broth is a 20-hour process.
Yee again attributes this dedication to her mom's teachings. "When I told her that I wanted to open my own restaurant she was so proud and looking forward to me being even better than her. You always wish for your children to be better. I'm creating this legacy for my children."
And they keep adding to the opportunities. Along with Bowl 91 and Big Pot & Boil, they are also opening another restaurant. They feel confident not only because of their obvious skills in the kitchen, but because of the support they feel in our community.
"We've been through a lot growing up and resettling in the United States," Yee says. "So when opportunity comes, we take it. We try to always give that opportunity back to our community."