Jenny Jakl, Artist
by Tim Froberg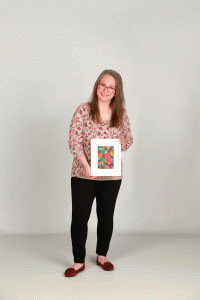 Jenny Jakl went from a corporate environment to the creative world of art.
It's a transformation that puts a smile on her face and excitement in her voice.
Jakl owns her own business, working out of her home in Neenah. Much of her work involves creating acrylic abstract paintings for clients. Abstract art uses shapes, a blend of brilliant colors, lines, and textures to achieve its effect.
Jakl will celebrate her second anniversary as a full-time artist next month. She worked for 13 years in a corporate setting as a marketing and technology coordinator, a director of marketing and communications, and an IT specialist before turning her passion for art into an occupation.
Jakl grew up in Hortonville. She holds a bachelor's degree in marketing from Lakeland University and an associate's degree in arts business from Fox Valley Technical College. She has also taught classes at the Appleton and Neenah YMCAs along with the Bergstrom-Mahler Museum of Glass and the Trout Museum of Art.
To see Jakl's work, or to reach her, visit her website, https://www.jennyjakl.com. Or contact her on facebook, www.facebook.com/Jenny JaklArtist, or Instagram, www.instagram.com/JennyJaklArtist. She can also be reached at 920-502-9076.
What's it been like changing careers?
"I love it so much. I feel energized, but also exhausted at the end of the day, because I put so much time into it. I feel like there's not enough hours in the day because I have so many ideas for all the different things I want to do."
Why did you make such a bold career change?
"I had gotten a director's job – my dream job. I loved it, but it was stressing me out. I'd come home and find myself creating with art, using it as a release. It was like a super healing experience. I started experimenting more with art and started thinking, 'You know what? I can turn this into something.'"
When did you develop an interest in art?
"I've always had creative women in my life: my great grandmother, my grandmother, and my mother. They always nurtured that creative instinct. But it wasn't until I had to take a class in art in high school. It was either music or the creative arts. I couldn't play an instrument, so I started painting landscapes and fell in love with it."
How do you describe your work?
 "I do very modern, bright, colorful abstract pieces. I experiment with different subject matters. I've done a wallflowers-in-motion series and I do some florals. My style is very bright, very colorful."