Re-Boot Your Style
by Phyllis Collar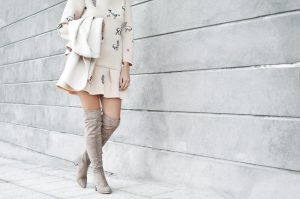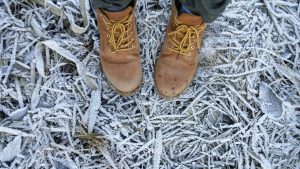 Now that spring is right around the corner, late winter is often our last chance to bust out our best sweaters and boots. Surely, some days require our muckiest pair, as we shovel our way out of our homes and businesses. However, much of our boot donning can be accomplished with flair in 2020. With this spectacularly mild winter we've had so far, there are lots of days to make our boots the centerpiece of an outfit. Why not take a peek at what's trending in boot fashion this season?
First, for that tough girl look, try a pair of combat boots on for size. I imagined myself in denim shirt dress and a pair of black lace-up, army-surplus pair while recently shopping with my son, who is a new army graduate. Alas, I regret that I never took the leap and bought them. The runways pair them with everything from black leggings and T-shirts to short skirts and sweater dresses. 
Second, how about those other lace up boots? Victorian era lace-up boots are back and trés chic. The recent movie "Little Women," the newest version of that classic tale, had a hand in the resurgence of late 18th century fashion. Boots with delicate lace-up fronts and pointed toes have a sleek silhouette and are terrific paired with tights and a mini-skirt or your favorite pair of jeans. 
Another shorter boot trend is the polar opposite of pointed, sleek boots. The square-toed ankle boot is boxy and pairs well with blazers and wide-legged trousers, as well as distressed jeans and T-shirts.
If taller boots are your passion, this season option abound. Sleek, knee-high boots are a classic. Paired with leggings, skinny jeans, short or long dresses alike, a simple black pair should be a staple in every woman's wardrobe. Or, find yourself a pair of knee-high neutral-hued boots and wear those with just about anything as well.  
If you aren't afraid of heights, try a pair of over-the-knee boots on for size! I remember a good friend of mine had a pair of these in burgundy suede that she paired with a pair of burgundy tights and plaid wool button-up shorts. This year, these boots are a classic in leather and suede, and in neutral shades to sleekest black, and they double as leg warmers to boot (pun fully intended)! 
Now, if you need to feel more grounded, look no further than lug-soled or platform boots, which are also seen on the runways this winter. Platform boots make me wish I had never thrown out those Steve Madden's that got me through my twenties. These things scream retro in a great way! Lug-soled boots are another staple for any Wisconsin winter. Feminine yet edgy, lug-soled boots can be worn walking through slush on your way to the office and don't require switching to a more sophisticated pair. They are sophisticated in their own right and offer traction and solid footing in an unsteady world. Pair them with jeans—rolled, cuffed, or cropped—these boots can imitate rain boots, emulate sleek, black leather "planks," or take a casual sneaker silhouette. 
Bright hues were in abundance on runways this year and shoes and boots were no exception. 
Most boots can be had in vivid colors and even bright white! No style precludes experimenting with a little color once in a while. In addition, coziness has become an important factor when choosing some kinds of boots. Fuzzy accents appeared on all kinds of accessories this year. A pair of boots with fur inside could just be the ticket to your warmest winter yet!
Be they practical or super stylish, you are bound to get compliments on your boots this season if you get yourself a pair that suits your fancy, or bust out a pair you stored away from your past. Fashion is always a cycle; similarly boots always stand the test of versatility and variety.