Reuben Rolls with Homemade 1000 Island Dipping Sauce
by Carly Cerniglia
For the rolls:
½ lb. corned beef, shaved and chopped
½ 16 oz. can sauerkraut, drained
1 cup Swiss cheese, shredded
½ pack egg roll wraps
1 to 2 cups vegetable oil for frying
For the sauce: 
1 cup light mayonnaise
Small squirt of yellow mustard
¼ cup ketchup
3 T sweet pickle relish
1 T finely chopped white onion
Dash smoked paprika
Salt and pepper to taste
A few shakes of hot sauce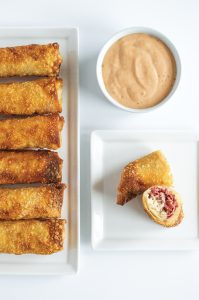 Mix sauce ingredients. Thin with a bit of pickle juice, water, or milk if you want a thinner dipping consistency. Set aside. 
Place an egg roll wrap turned to resemble a diamond in front of you. Mix the chopped corned beef, sauerkraut, and Swiss cheese in a small bowl. Place a small amount of the mixture in the lower middle of the wrap, spreading out evenly, about ½ to 1 inch away from the left and right corners. Fold the bottom corner up around the filling. Fold the left and right corners inward, enveloping the filling. Roll up, wetting the top corner with a bit of water and your finger. Continue rolling upward to seal. Repeat with remaining ingredients. (I filled about 10 egg roll wraps with this recipe.) 
Heat about 1 to 2 inches of oil in a deep pot (mine used 1to 2 cups) to 350 degrees Fahrenheit on a candy thermometer. Carefully place a few rolls in the oil, being careful not to overcrowd them. Cook for 5 minutes, then flip the rolls. Continue cooking until golden brown. Transfer to a pan with a wire rack to drip dry. Repeat the process with the remaining rolls. Serve warm with sauce. 
Enjoy!