O'zapft is!  (It's Tapped)

by Steve Lonsway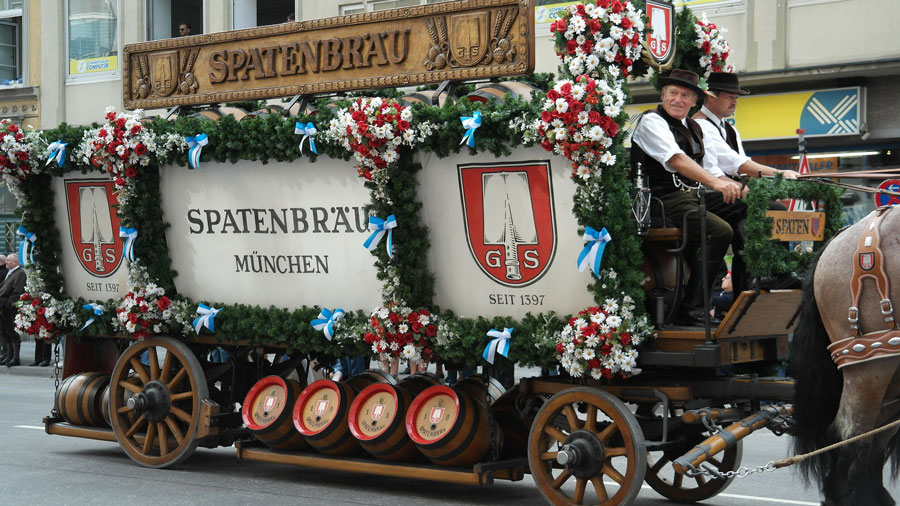 Oktoberfest beers are one of the most recognizable seasonal brews. Seeing them on the shelves is an early indication of the fall season nearing. These beers are perfect for the cooling weather as they tend to have a little more alcohol by volume (a.b.v.). The color range is vast, like the setting sun through colored leaves this time of year. They can be golden to reddish brown, depending on the person crafting it.  
The flavor profiles of Oktoberfests tend to be a bit sweeter due to the malts utilized. Often toasted malt, caramel, and bread-like characteristics are present. Hops play a decreased role for this style. Bitterness, aroma, and hop flavor are designed to be quite subtle to allow the malts to shine through. A cold fermenting lager yeast brings it all together, but one must have patience – the lager yeast ferments at cooler temperatures, therefore takes longer. When the time comes, the Brewmaster will cool the tanks down even further and allow the beer to maturate over time. Typically, lager styles such as Oktoberfests take more than twice the tank time of a typical ale.
The history of Oktoberfest is fascinating! It is all believed to have started on October 12th, 1810 in Munich, Germany. The town residents of Munich were invited to nearby fields to participate in the celebration of the marriage between Prince Ludwig and Therese of Saxa-Hildburghausen. The fields were named Theresienwiese, which translated to "Theresa's Meadow" in honor of the bride and retains the name today.  
To honor this special occasion, the celebration has become an annual affair. In 1950, a new tradition was instituted to start the festival off; a twelve-gun salute at noon then the all-important tapping of the first keg is done by the Mayor of Munich. When that happens, "O'zapft is" is bellowed out, which in Bavarian dialect means "It's tapped."
Oktoberfest has been manipulated over time and now runs a 16-day course from late September and ends the first Sunday in October. It is attended by in excess of 6.4 million worldwide visitors who, on average, consume 1.1 liters of beer while there. As customs dictate, only Munich brewed beers are available. Augustiner, Hacker-Pschorr, Hofbrau, Lowenbrau, Paulaner and Spaten are the brewers of the beer you can expect to enjoy at Oktoberfest. 
Beer is not the only attraction at the celebration. You'll also find a wide variety of music, festival rides, games, and food.
With Munich's Oktoberfest celebration setting the example, many across the globe have joined the fun. Some of the higher attended festivities throughout the world occur in Ontario, Toronto, Brazil, and Montreal. In the U.S., you have Cincinnati and Denver leading the charge. Not to be outdone, Wisconsin throws a few Oktoberfest parties of their own. Find them in La Cross, Milwaukee, New Glarus, and of course, Appleton.
Prost! (Cheers in German)