Severed Hand Pies
by Carly Cerniglia
Sometimes we all just need a hand…a Severed Hand Pie that is! If this pun didn't kill you, this spooky dessert is super simple to put together and will look great with your Halloween feast! Flaky and delicious, these pies will have all of the ghosts and ghouls smiling. Just remember not to bite the hand that feeds you! Hand them out to your guest and expect gooey applause!
Makes 8 hand pies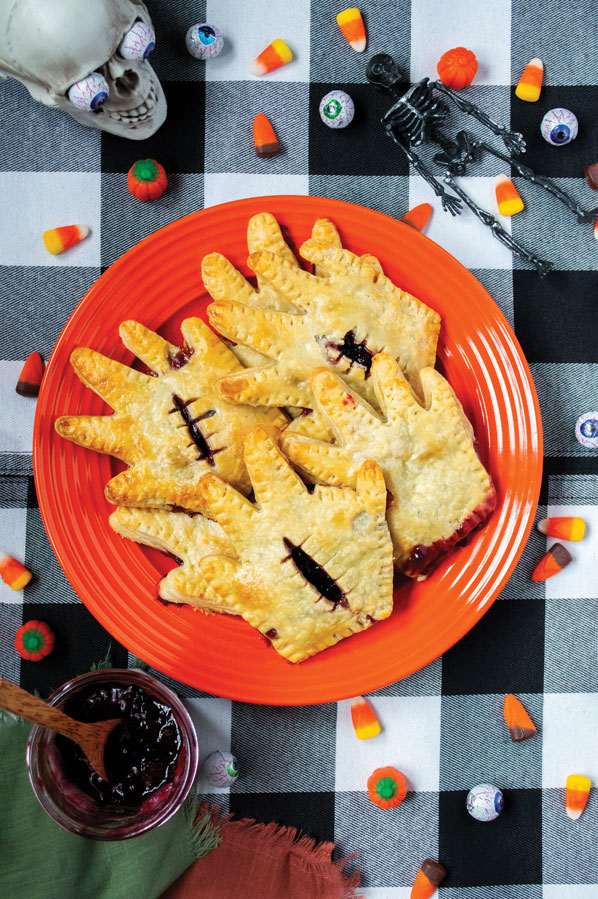 Ingredients:
2 ¾ cup flour
1 T sugar
½ tsp salt
½ block cream cheese cut into 1" chunks
1 stick cold butter cut into ½" chunks
½ cup cold water
1 egg
1 jar cherry preserves
Directions:
Whisk together flour, sugar, and salt. Mix the cream cheese into the flour mixture with your hands until it resembles coarse crumbs. Next, mix in the butter until there are a few large flakes incorporated throughout. Dough mix will be shaggy and crumbly. Add in water and gently mix until you can form a rough ball. Wrap in plastic wrap and chill overnight. Dough will come together as it chills. 
Preheat oven to 375 degrees Fahrenheit. Whisk an egg with a little water to make an egg wash.  Roll out pie dough to ¼-⅛ inch thick. Cut out 16 hands. On 8 of the hands, place a heaping tablespoon of cherry preserves in the center. Brush around the inside edges of the hands with egg wash. On the other 8 hands, cut scars and stitches. Place stitched hands on top of the cherry preserves. Seal with a fork. Don't worry about getting a good seal; you want the cherry preserves to ooze out and look like blood. 
Brush the hands with egg wash and sprinkle with extra sugar. 
Bake for 27 minutes or until golden brown. Let cool on baking sheet 5 minutes, then transfer to a wire rack. Enjoy!