Holiday Sugar Cookies – 2 Ways
by Carly Cerniglia
Makes about 15 sandwich cookies, and 30+ circle cookies
There is such a nostalgia around baking and decorating holiday cookies. Kick your holiday tray up a notch with these elegant cookies. These are the perfect size for snacking, gift giving, and holiday party bringing. Grab a cup of cocoa, put on the holiday music, and let the memories flow as we bake up some deliciousness!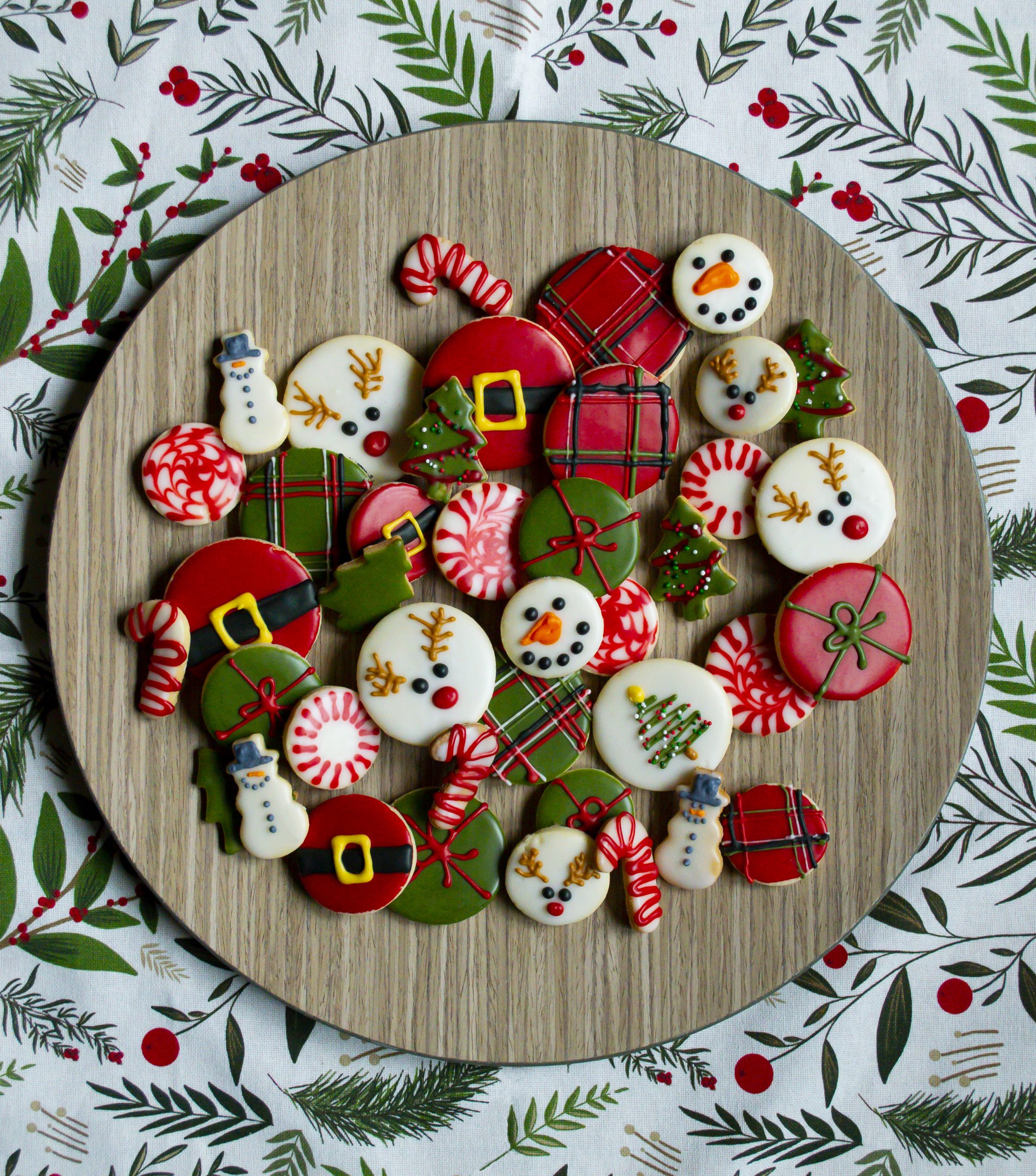 Ingredients:
Sugar Cookies: 
4 cups of flour
⅓ cup corn starch 
1 cup unsalted butter, room temperature
1 cup sugar
2 eggs
1 tsp vanilla 
¾ tsp salt
Icing:
3 cups powdered sugar
5 T Milk 
Food color
Royal Icing:
5 cups powdered sugar
3 T Meringue powder
5-8 T water
Food color
Additional: 
1-2 cups of green candy melts
Assorted Holiday sprinkles
Piping bags
2" and smaller assorted circle cookie cutters
2.5" rectangle cookie cutter
1" holiday cookie cutters
Directions:
Cookies:
In the bowl of a stand mixer, beat butter, sugar, and salt together until fluffy. Beat in eggs and vanilla. In a bowl, mix flour and cornstarch. Slowly add into butter mixture until incorporated. Shape into a ball, flatten out, and wrap in plastic. Chill 1 hour. 
Preheat oven to 375 degrees Fahrenheit. 
Roll out ½ of the cookie dough to ¼" thick. Use different sized circle cutters to cut out cookies. 
Place on a parchment lined baking sheet and bake for 12 minutes. Let cool on baking sheet for a few minutes, then transfer to a wire rack. 
Roll out remaining dough to ⅛"-¼" thick. Cut 24-30 rectangles. In half of the rectangles, use small cookie cutters to cut out shapes. Place cookies onto parchment lined baking sheets and bake for 12 minutes. Let cool on baking sheet for a few minutes, then transfer to a wire rack. 
Icing:
Mix milk and powdered sugar together with a whisk. If too thick, add more milk. If too thin, add more powdered sugar. Color with desired colors. 
Royal Icing: *see assembly below before making
Place all ingredients, less water, in a stand mixer. Mix, adding 1T of water at a time. Continue adding water until a thicker, pipeable consistency is reached. Icing should fold back on itself but take a while to sink back together. Color with desired colors. When not in use, cover royal icing with a damp paper towel, or seal in a piping bag. 
Assembly: 
Begin by making the icing. Leave out food coloring. Dip ⅓ of your circle cookies into icing, scraping off extra icing with a small spatula or table knife. Dip the rectangle cookies with the cut out the same way. Divide leftover icing in 2 bowls. Add red food color to one and green food color to the other. Dip remaining cookies in the same manner, less the rectangles. 
Let cookies dry until dry to touch, preferably overnight. 
Make royal icing. Divide into bowls and dye with desired colors. I used white, black, brown, red, green, orange, and yellow. Transfer to piping bags.  
Melt 1 cup of candy melts. Spread an even layer on one of the un-iced rectangles. Sandwich an iced rectangle on top. Sprinkle with sprinkles if desired. Repeat with remaining rectangles. Melt more candy melts if needed.
Use royal icing to decorate cookies. Be creative! Make Santas, snowmen, reindeer, presents, Christmas trees, plaid, and whatever your heart desires!