Salmon Chowder

by Michelle Fierek
There is nothing like a hearty bowl of thick, chunky soup to warm you up on a snowy winter's day.
This rich, creamy salmon chowder has melt-in-your-mouth tender potatoes, smoky bacon, flaky salmon, and a warm kick of heat from the jalapeño. It cooks together in one pot and is done in about 30 minutes!  Serve with broken saltine crackers for a traditional bowl of comforting chowder!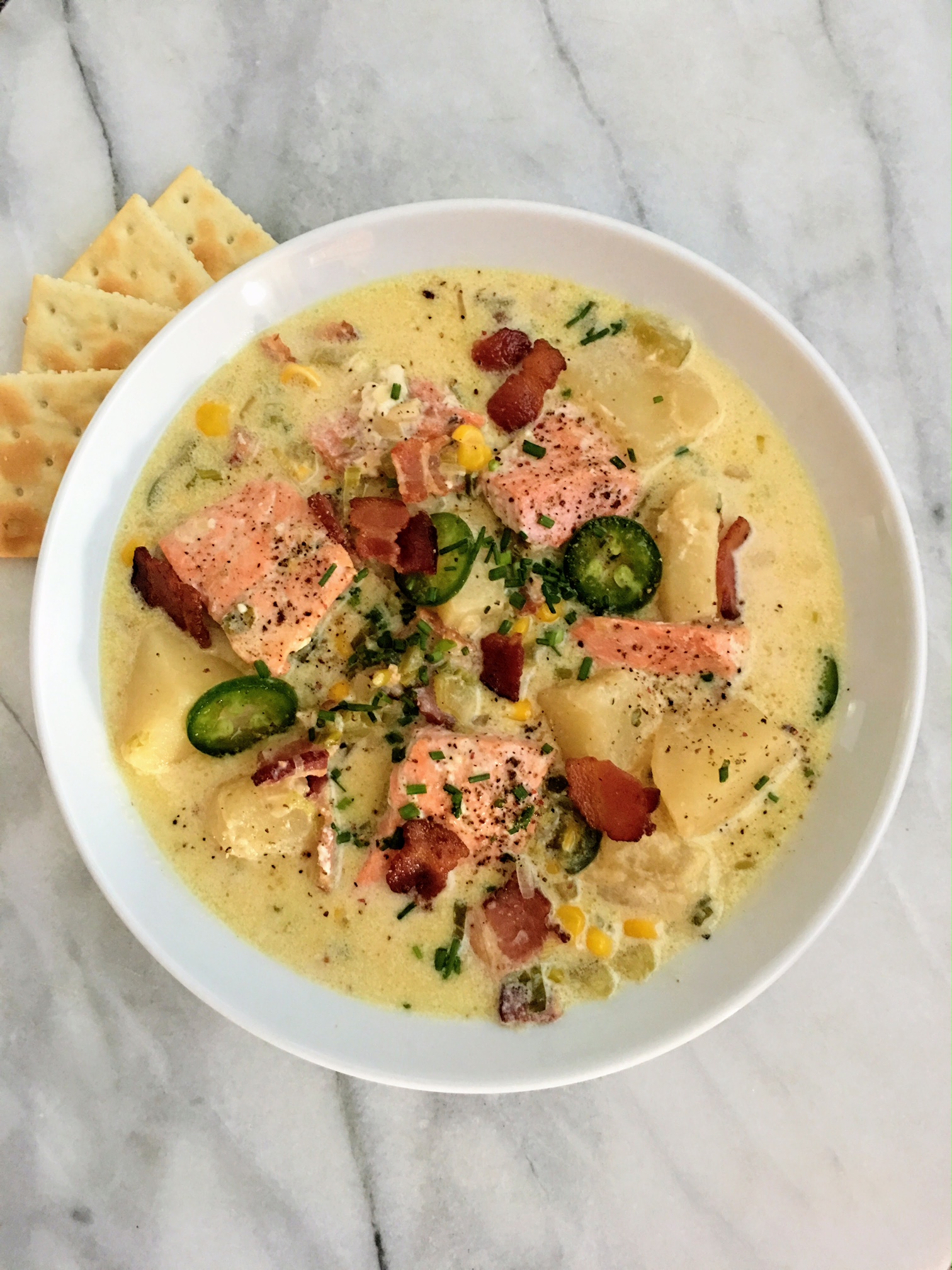 Ingredients 
2 T unsalted butter
1/2 lb bacon, cut into ½-inch pieces*
2 large russet potatoes, peeled and cut into 1-inch pieces
4 scallions, finely chopped
1 small onion, finely chopped
3 cloves garlic, minced
2 stalks celery, finely chopped
2 cups frozen corn
1 jalapeño, thinly sliced
4 cups chicken stock
2 cups heavy cream
1 T corn starch
1 lb piece of salmon (preferably wild), skin discarded and cut into 1-inch pieces
1 1/2 tsp salt
1/2 tsp pepper
chives for garnish
Directions

1) Sauté bacon in butter until crispy. Remove with slotted spoon and set aside, leaving fat in pot.
2) Add celery, onions, jalapeños, scallions, and garlic. Cook over medium heat until softened, about 8 minutes. Add broth, potatoes, salt, pepper, and cooked bacon (reserve some for garnish if desired). Bring to simmer and cook until potatoes are tender, about 15 minutes.
3) In small bowl, whisk cornstarch into 2 T water to make a slurry. Stir the mixture into the broth and bring to a boil. Allow to boil approximately 2 minutes to thicken.
4) Turn heat down to simmer and stir in the corn and heavy cream.  Layer raw salmon pieces on top of simmering soup, sprinkle with 1/2 tsp salt, and cover pot with lid.  Simmer for 10 minutes or until salmon is cooked through.
5) Garnish with fresh chopped chives, freshly ground black pepper, and reserved bacon. 
* Use a good quality bacon as they differ in fat content.