Appleton North Theater Embraces Hope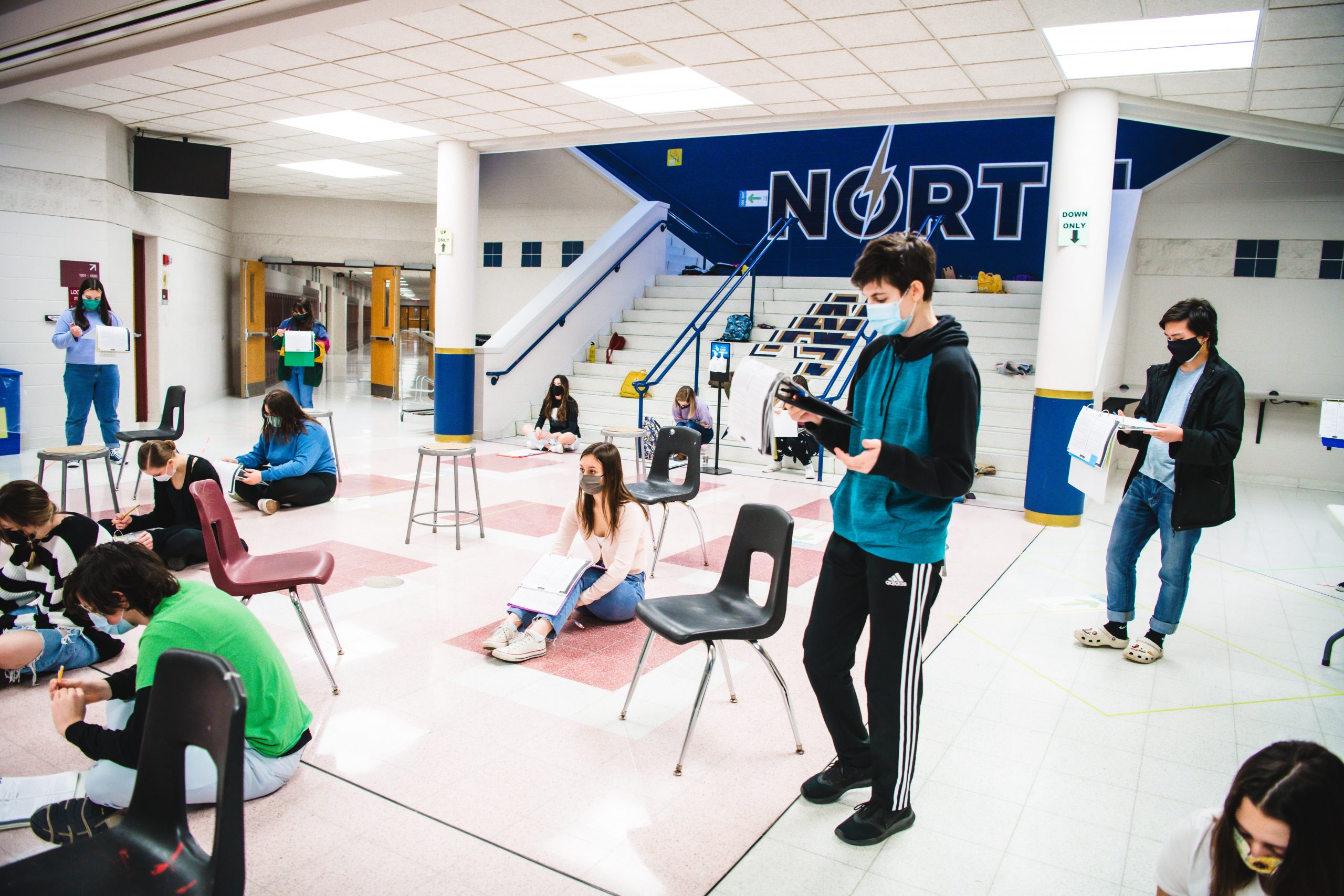 by Jim Romenesko
When the pandemic shut down school activities last March, Appleton North Theatre's planned production of "The Laramie Project" was one of the casualties.
Now, with many local high school theatres carefully reopening their doors, that production is back on track.
"The Laramie Project" was developed by several members of New York's Tectonic Theatre Project, who interviewed dozens of residents of Laramie after the murder of Matthew Shepard. Shepard, a gay 21-year-old University of Wyoming student, was kidnapped, severely beaten, lashed to a fence, and left to die outside Laramie in 1998. Two area men were convicted of the crime, which sparked national and global hate crime legislation.
The interviews were crafted into a stunning theatrical piece in Verbatim Theatre style, which employs direct quotes from the interviews and has been seen by millions around the world since its premiere in 2000. "The play shocks, challenges, and moves all who watch it," said director Ron Parker, who heads up the North Theatre program. "It reveals the lowest depths of hatred and greatest heights of compassion that lie within all human beings in any seemingly average community." 
The show was a great choice for a return to full production, said Parker. "Not only is the play's message even more relevant this year with all that has been seen with the expression of vitriol and hate, as well as the coming together of communities to combat it, the documentary style of the show transfers well to performing under COVID-19 conditions and restrictions.
"But it's not only a play about a hate crime," Parker insists. "It's also a play about hope."   
And the students have embraced that hope.
Parker cites a principal philosophy of "Sources of Strength," a national wellness program for schools, in which students are encouraged to be generous with their talents and resources. "By taking on 'The Laramie Project,' the cast and crew are focusing on helping others and, by so doing, are helping and healing themselves," Parker said. 
He says the themes of the play resonate strongly with the young actors. "They are constantly making connections between the events in Laramie and what is happening today," he said.
In the North production, 21 students portray multiple characters, some directly connected to the murder and some simply members of the Laramie community, bringing forth the undeniable fact that damaging incidents like the Shepard murder cannot help but affect everyone.
"After every performance, there will be a talkback involving members of the community who deal with the problems portrayed in the play on a daily basis," Parker says. "We hope to begin a dialogue on the issues of acceptance and change hearts and minds in our community."
"The Laramie Project" will be presented April 29 through May 1. Current plans are to present the show for a limited live audience (subject to changes) and will be live streamed. For tickets, visit www.appletonnorththeatre.org
Upcoming productions 
Brillion High School
"Working" April 22-25, April 29-30, and May 1-2
https://brillionsd.org/high_school/endries_performing_arts_center
Chilton High School
 "A Gentleman's Guide to Love and Murder" April 18-20 and 22-24
 Kimberly High School
"Songs for a New World" April 16-24 
Xavier High School
"Spin.The pop hits of the early '60s" May (Dates TBA)
"Jack & The Beanstalk" May (Dates TBA)