Fish-Wich
by Carly Cerniglia
Move over fast food! We don't need you around here. And step aside, long waits for the Friday night fish fry! With this easy recipe, you can make your own fried fish sandwiches at home, and boy, is it worth it. Grab a big, meaty fish filet battered with a thick, crispy crunch, tasty tartar sauce, and fresh lettuce. It's perfection. 
Serves 2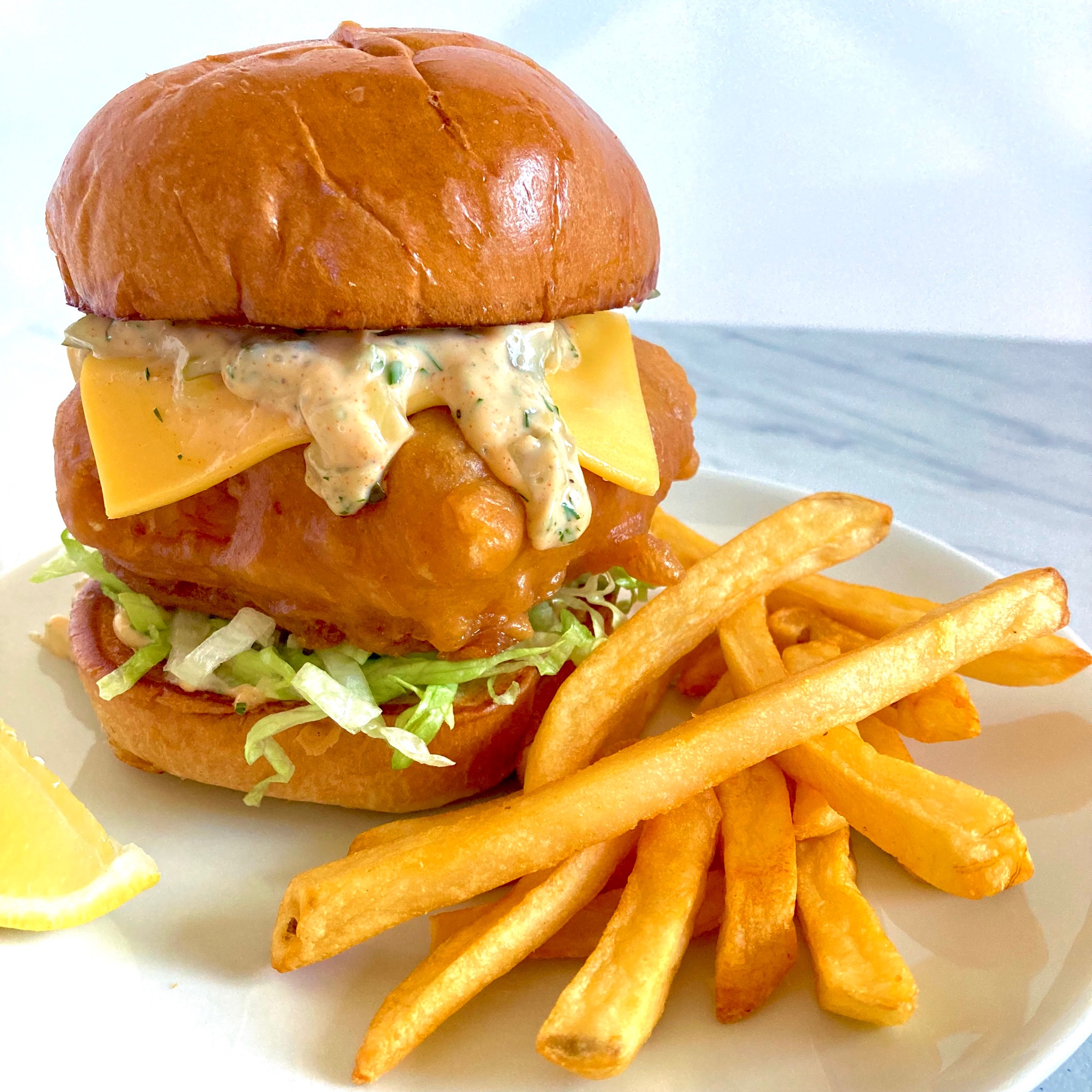 For the tartar sauce: 
½ cup light mayo
¼ cup pickles, chopped small
1 tablespoon fresh dill, chopped
¼ teaspoon garlic powder
⅛ teaspoon smoked paprika
⅛ teaspoon celery salt
⅛ teaspoon black pepper
Squeeze of fresh lemon juice
For the fish: 
1 thawed haddock filet, cut in two 3-inch pieces. Do not unfold if in a rectangular shape.
¼ cup flour
For the batter: 
⅜ cup flour
1 tablespoon corn starch
½ teaspoon baking powder 
⅛ teaspoon baking soda
⅛ teaspoon seasoned salt
⅛ teaspoon garlic powder 
⅛ teaspoon onion powder
⅜-½ cup water
For the sandwiches:
Shredded lettuce
American cheese
Brioche buns
Mix all tartar sauce ingredients together and set aside. 
Preheat the oven to 200 degrees and line a small sheet pan with paper towel and an oven-safe rack. 
Heat 2" of vegetable oil or canola oil in a wide, but deep, pot. Attach a thermometer. Bring oil up to 350-375 degrees. Salt fish fillets. Place ¼ cup flour in a bowl, set aside. In another bowl, mix remaining batter ingredients until smooth. Place a fish fillet into the flour and coat evenly, shaking off excess. Dip and coat in batter. Carefully lower into hot oil, holding the fish in the oil as you gradually let it drop to prevent sticking. Fry until the internal temperature reaches 135 degrees. (For my thick fillets, I cooked them one at a time for 15 minutes, flipping every 3 minutes or so.) Once cooked, place on the prepared rack and salt. Place in the oven until ready to assemble, or while you fry another fillet. 
To assemble:
Toast buns. Spread a layer of tartar sauce on the bottom bun and layer with lettuce, fish, and cheese. Spread a thick layer of tartar sauce on the top bun and close the sandwich. Serve with fries and a lemon wedge. Enjoy!