Let the Good Times Grow!

by Carrie Meier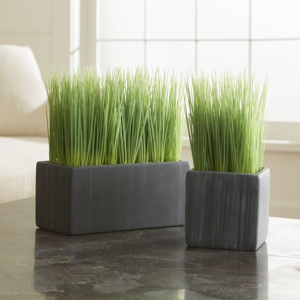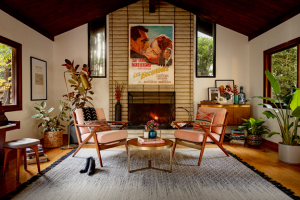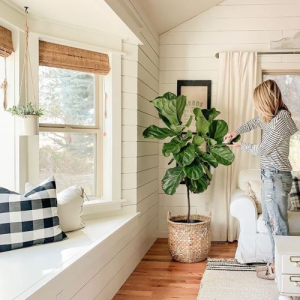 Our appetite for greens is growing! The outdoors becomes our extended square footage as Mother Nature welcomes us (a bit more) warmly, to get out and about. The first time we step back onto that green grass barefoot, it's a pilgrimage completed. In honor of this purifying moment and the dawning new season, let's decorate properly with faux indoor flora equally as enchanting as those of our outdoor oases. But no muss, no fuss, and no extra stuff.
Don't be fooled. Not all faux plants are created equal and not all plants go with all design styles.  Adding greenery to a space needs to be an intentional design decision like any of your accessory choices. So, let's dig in!
Boho Vibes: Keep it funky with palms or snake plants. These are fun to play with as they come in a variety of sizes that all look great! Whether it's a table top selection, mid-size, or large floor piece, their shape and architectural interest cannot be argued.
Farmhouse appeal: Whether it's shabby chic, vintage, or a fresh modern take, the fiddle leaf fig is a great faux plant. Boasting wide leaves with orderly layered branches, this faux plant looks incredibly real when done right and is easy to clean, which can't be said about all faux plants!
https://www.pinterest.com/pin/757308493581885817/
Modern or Minimalist: Nothing is cleaner or more sophisticated in a modern or minimalist space than well-potted grass arrangements or a stunning succulent garden.
https://www.pinterest.com/pin/421579215108400059/
Mid-Century Mojo: With so many iconic designs uplifting this style, you must be bold when choosing your faux plants. Monstera and banana leaf plants are exotically elegant and rubber plants are equally as timeless as mid-century modern design itself. Any of these choices integrate beautifully and hold their own amongst their sophisticated roommates.
https://joybird.com/blog/differences-between-modern-contemporary-mid-century-design
Expert tips to avoid faux pas plants: 
1.) The pot matters. Just because it's fake, doesn't mean you can plant it in anything. Honoring the illusion of roots means the size and scale of the pot need to match the plant. This is incredibly important in creating a realistic piece. 
2.) Put it in the right soil. Many faux plants are plunked in foam and topped with Spanish moss, dried out and sparse before it even leaves the store. Liven it with a soil alternative. Cedar chips are rich in texture and low in fragmentation or dust. Dark mocha or black rubber mulch are also fantastic options to create a soil appearance with no mess. If you're looking for a unique twist, whole coffee beans have become my favorite soil alternative for small plants, adding a realistic look and an incredible aroma.