Shrimp & Grits
by Carly Cerniglia
It's still chilly outside, so let's make something nice and cozy! This elevated shrimp and grits recipe has smoky shrimp, cheesy grits, and salty pancetta. Together with pops of corn and asparagus, this meal is a winner. Perfect for four people, easy to halve for two, dinner has never been tastier, or easier. This two-pan, one cutting board recipe is an impressive meal that you can easily make for family and friends this season. You'll notice below there aren't many measurements for the spices. When you cook southern soul food, you cook from the heart! Feel free to add more or less of each seasoning to suit your tastes. Not able to find pancetta? No worries! Just substitute your favorite smoky bacon.
For the Shrimp:
2 lbs shrimp, deveined, shell on, thawed
Smoked paprika, to taste
Salt, to taste
Pepper, to taste
Garlic powder, to taste
Olive oil
2 T unsalted butter
1 bunch asparagus
2 cloves garlic, thinly sliced
5 oz pancetta, diced
1 8.5 oz canned corn, drained
Pinch of crushed red pepper (optional)
For the Grits:
½ cup grits (not instant)
1 ½ cups whole milk
1 ½ cups chicken broth
¼ tsp garlic powder
Salt & pepper to taste
4 oz freshly grated sharp white cheddar cheese
2 T unsalted butter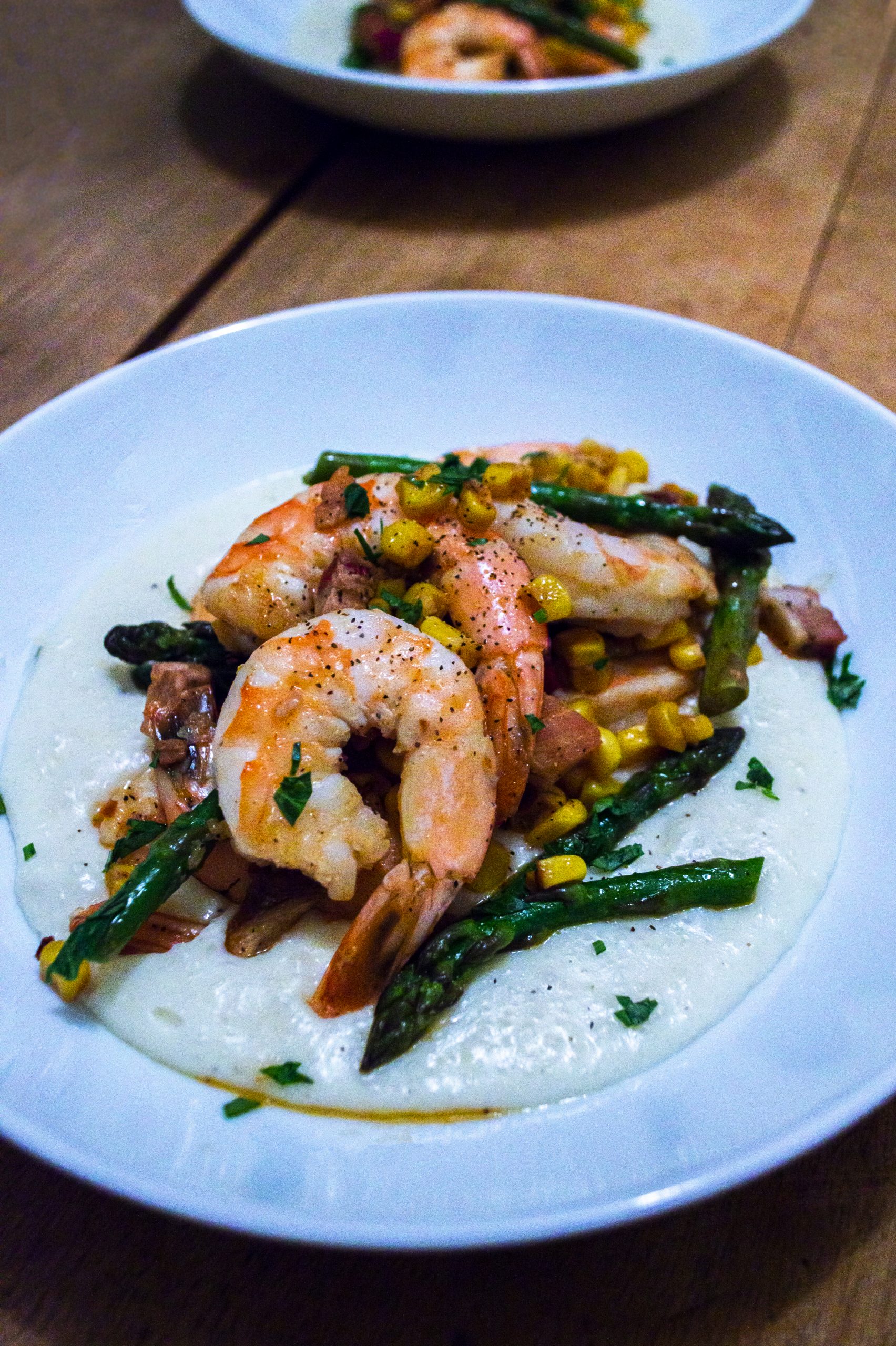 Toss raw shrimp with 1-2 T smoked paprika, ½ tsp garlic powder, salt and pepper. Set aside to marinate.
In a large skillet, sauté pancetta on medium low until about 2 T fat develops and pancetta begins to crisp. Remove pancetta from skillet and fry sliced garlic carefully, tilting pan to make a small deep fryer. Once golden brown, remove from pan, careful not to burn. Leave fat in pan.
Add 2 T olive oil to the pan, and heat. Cook shrimp in two batches. Cook for 2-3 minutes on each side, then remove from pan. Set aside.
In a medium sized saucepan, mix milk, chicken broth, garlic powder, salt, and pepper together. Bring to a boil and add in grits. Cook, stirring frequently, about 30-40 minutes until grits are cooked. Stir in cheddar and 2 T butter.
While grits cook, peel shrimp, leaving tails on if desired.
Heat pan from shrimp and wipe out any larger residue. Cut tips of asparagus off so you have 1-2 inch pieces of asparagus tips, reserving stems for another use. Sautee in pan for a few minutes, adding a splash of chicken broth or water to deglaze the pan. Add in ½ can of corn, fried garlic, pancetta, crushed red pepper, 2 T butter, and another hearty dash of smoked paprika. Add in shrimp and heat until just warmed through. Spoon shrimp on top of grits to serve. Enjoy!