Tofu Shiitake Dumplings

by Carly Cerniglia
One of my favorite things to do with friends is cook together. My new friend Catherine is from
Taiwan, and her grandmother is from China. About once a month we get together and make her grandmother's dumpling recipe. We spend the whole day making hundreds of dumplings,
chatting, and having a blast. I created this easy vegetarian version of dumplings for you to enjoy.
Do not fear the wrappers, as how you wrap them doesn't matter, just as long as they stay sealed!
Makes about 92 dumplings.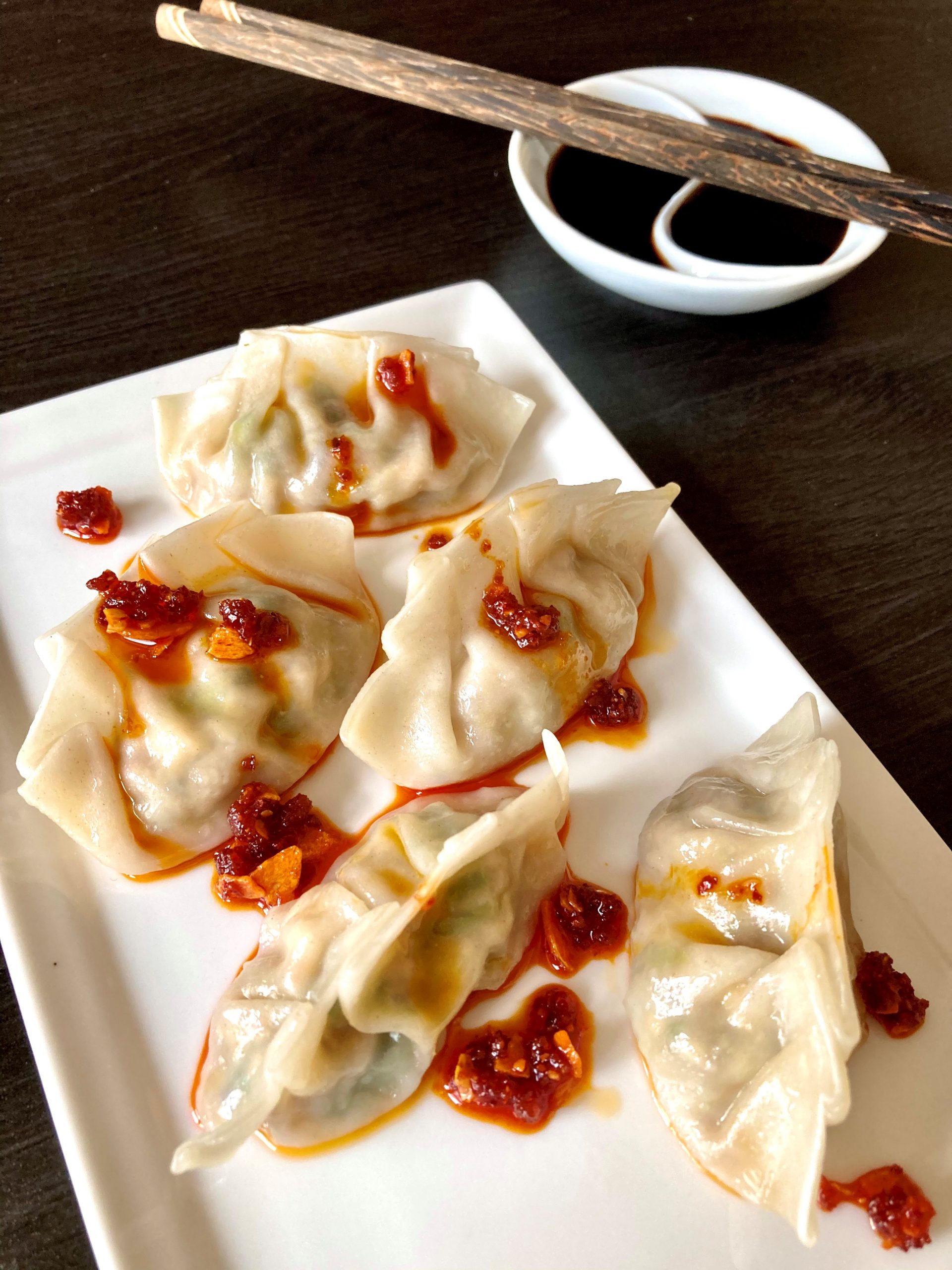 1 block firm tofu
12 dried large shiitake mushrooms* (rehydrates to about 1 1/2 cups)
1 small head napa cabbage, chopped into small pieces (about 2-3 cups)
¼ cup kimchi, chopped small
4-inch chunk of fresh ginger, peeled and sliced
3 garlic cloves, peeled
1 bunch Chinese chives, chopped small (about 1/2 cup) **
1 bunch scallions, thinly sliced
1 Thai chili, stem removed
2 teaspoons rice wine vinegar
4 teaspoon rice wine***
2 tablespoons soy sauce
2 tablespoon + 1 teaspoon sesame oil
1 teaspoon gochujang****
½ teaspoon white pepper
1 egg
1 tablespoon oil, for frying
2 packs of dumpling wrappers
* You can use fresh shiitake if you can't find dried shiitake at an Asian grocery store. If your dried shiitake are very small, add in enough fresh button mushrooms to make 1 ½ cups chopped mushrooms.
** Substitute fresh chives if not available or leave out.
*** Substitute mirin
**** Substitute sriracha
Directions:
Open your tofu and drain. Poke holes in the bottom of the container and invert on a
baking dish. Place tofu on top, cover with a clean kitchen towel, and place a cutting board and a heavy book on top. Let sit until water has drained, about 1 hour.
Meanwhile, in a small saucepan, cover dried shiitake mushrooms with water and bring to
a simmer. Let simmer until softened, then drain. About 20 to 30 minutes.
While mushrooms are simmering, place chopped cabbage into a gallon Ziplock bag with
2 tablespoons of salt. Seal and shake the bag. Let sit.
Pro tip: use the extra time here to chop your other veggies.
Once shitake mushrooms have cooled a bit, place into a food processor with garlic cloves, Thai chili, and ginger. Pulse until finely chopped.
In a large bowl, mix all ingredients except cabbage, egg, and scallions. Crumble in tofu. Bring a large saucepan to medium heat with 1 tablespoon of oil. Saut

é

mixture for 15 minutes. Let cool a bit, then mix in scallions and egg. Use your hands to squeeze out excess water from the cabbage and add cabbage to the mix.
To fill dumplings:
Get a small dish of fresh water. Take your dumpling wrapper in one hand and use your
other to rub a bit of water around the edge of the wrapper. Take a small spoonful of filling and place in the center of the wrapper. Fold the wrapper in half, then pinch together the edges, pressing out any extra air to form a sealed half circle. Wet the edge again and crimp in the edges. I do four crimps towards the center. Place on a baking sheet so they sit up nicely on their own. Repeat till all the wrappers are filled.
Here you can freeze them and transfer them to bags once frozen.
To cook:
You can boil them for 5-7 minutes, until translucent, steam them, or fry them.
Heat 2 tablespoons of oil in a nonstick saucepan with lid. Place dumplings in a circle, not
touching. Fry until golden on the bottom. Carefully pour in a ¼ inch to ½ inch of water.
Cover and let steam for about 8-10 minutes if frozen, 5 minutes if fresh. You may need to
add a bit more water, or drain some off, once the wrappers are translucent.
Remove cover and drizzle in a bit more oil. Let cook until water evaporates and the bottoms become crispy again. Do not try to move dumplings until they move freely!
Serve with soy sauce and chili oil. Enjoy!