Gruyere-Stuffed Smoked Pork Chops
by Carly Cerniglia
Smoked pork chops stuffed with gruyère cheese is the Easter dinner we didn't know we needed. Paired with creamy mashed potatoes, mustardy dressing, and bright asparagus, this one-pot-one-pan meal can be ready in an hour or less. The pre-cooked chops make this recipe easy, and sacrifice none of the flavor. This recipe makes two hearty portions, and the sides can serve four if needed. Just make two more pork chops!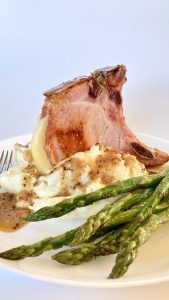 For the pork chops: 
Two smoked pork chops
3 ounces gruyère cheese, sliced
Salt and pepper
2 tablespoons olive oil
For the mashed potatoes:
Two large russet potatoes, peeled and diced
Three garlic cloves, peeled
¼ teaspoon garlic powder
Salt and pepper to taste
1 cup heavy cream
7 tablespoons salted butter 
For the gravy:
1 tablespoon salted butter
1 tablespoon flour
1 tablespoon whole grain mustard
1 cup chicken stock
One large shallot, finely diced
1 teaspoon brown sugar
Garlic powder, to taste
Salt and pepper to taste
For the asparagus:
one bunch asparagus, trimmed
1-2 tablespoons olive oil
Salt and pepper to taste
Fill a large pot with water and heavily salt. Add in potatoes and garlic cloves. Bring to a boil and cook until potatoes are fork tender. 
Meanwhile, make a 2-to-3-inch opening in the side of the pork chops. Fill with cheese and set aside. 
Once potatoes are fork tender, drain and place potatoes back into the pot. Allow to sit and steam. 
While potatoes are steaming, bring a large cast iron pan to medium heat and add olive oil. Once hot, fry pork chops for three to four minutes, until starting to brown and caramelize. Sprinkle with salt and pepper. Flip the chops, cover with a lid and turn the heat down to low. Let cook for an additional five to 10 minutes, or until the cheese melts and the chops are heated through. 
Meanwhile, add butter, heavy cream, and potato seasonings to the potatoes and mash. Cover with a lid and set on low, if needed, to keep warm. 

Remove chops once cooked and cover on a separate plate. 
In the cast iron pan with the chop drippings, melt 1 tablespoon of butter. Add shallots and cook until tender. Add in 1 tablespoon of flour and stir until starting to smell nutty. Slowly pour in chicken stock while whisking fervently. Season with gravy spices and allow to simmer until thick. Once the desired consistency is reached, transfer to a small dish or gravy boat. 
Carefully wipe the cast iron clean. Add in 1-2 tablespoons of olive oil and fry the asparagus. Season with salt and pepper. 
Plate your mashed potatoes, smoked chops, asparagus, and gravy, and enjoy!