Fun in the Sun 2020
by Phyllis Collar
If your exotic travel plans were canceled due to the recent pandemic, there's no need to fear. Summer has officially arrived in Appleton, Wisconsin! The bold prints, daring cutouts, and retro looks that dominate this season will make you feel like you are on vacation. Whether you are headed to a Covid-compliant outdoor shindig or mowing your lawn on a humid afternoon, this summer's bathing suit trends run the gamut from utilitarian and sensible to whimsical and creative.
The first big trend in swimsuits this year is cutouts. If you desire a one-piece silhouette with a bikini feel, look no further than a suit with dramatic cutouts. From asymmetrical to strappy-backed numbers, these suits can accentuate as little or as much as you care to reveal. I might be more inclined to opt for the simple yet risqué look of a one- or two-piece with just one shoulder cutout.
Our approach to wearing a swimsuit may need to be re-examined this season. Designers have pieces that transition from beach to evening apparel with the incorporation of beading and other embellishments. One variation on the cutout is a stylish wraparound swim top. Some of them even have sleeves!  Bathing suit tops with waist-defining belts and ruching need only a skirt or pants to move beyond the beach. 
Another summer swimsuit trend is ruffles. Feminine and flirty, ruffles can be subtle or outrageous. Choose a sleek one-piece with just a touch of ruffling on the straps edge, a high-waisted bottom with an off-the-shoulder crop top befitting a Spanish Flamenco dancer, or swimsuits with a simple overlay ruffle that covers in all the right places.
Lurex is a bathing suit trend that suggests glamour and whimsy. A light, stretchy fabric made of metallic yarn is dominating swimsuit trends in colors as bright as neon green and as brooding as darkest magenta. This shimmery material makes sunny days especially fun. Although there are plenty of sexy and stringy styles, I am especially partial to a shiny ballet pink with a simple silhouette, as I feel the fabric itself makes a bold enough statement.
If it is retro you crave, try this year's bright yellow, orange, and green swimsuit textiles. Retro sports-wear suits include colorful contrasting palettes and details. Vibrant orange is a dominant hue this season and bathing suits are no exception. Belts, buckles, and zippers are not to be found missing on many of these designs. Retro-romantic designs feature high waists, with or without ruching, and underwire bra tops with polka dots and tiny flowers.
The most interesting concept I see in swimsuit fashion this summer is the varying covered up options. Long sleeve tops, short sleeve one pieces, and boy shorts allow even the most modest or sun-averse to enjoy the outdoors. 
Of course, always put on sunblock before going out and take a look at the amazing hat trends this summer. Big straw hats, twill bucket hats, large-brimmed baseball caps, and even visors and headscarves can add pizzazz to any swimsuit ensemble! 
Re-Boot Your Style
by Phyllis Collar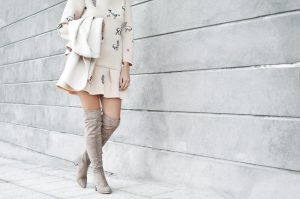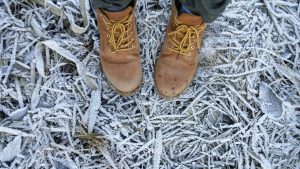 Now that spring is right around the corner, late winter is often our last chance to bust out our best sweaters and boots. Surely, some days require our muckiest pair, as we shovel our way out of our homes and businesses. However, much of our boot donning can be accomplished with flair in 2020. With this spectacularly mild winter we've had so far, there are lots of days to make our boots the centerpiece of an outfit. Why not take a peek at what's trending in boot fashion this season?
First, for that tough girl look, try a pair of combat boots on for size. I imagined myself in denim shirt dress and a pair of black lace-up, army-surplus pair while recently shopping with my son, who is a new army graduate. Alas, I regret that I never took the leap and bought them. The runways pair them with everything from black leggings and T-shirts to short skirts and sweater dresses. 
Second, how about those other lace up boots? Victorian era lace-up boots are back and trés chic. The recent movie "Little Women," the newest version of that classic tale, had a hand in the resurgence of late 18th century fashion. Boots with delicate lace-up fronts and pointed toes have a sleek silhouette and are terrific paired with tights and a mini-skirt or your favorite pair of jeans. 
Another shorter boot trend is the polar opposite of pointed, sleek boots. The square-toed ankle boot is boxy and pairs well with blazers and wide-legged trousers, as well as distressed jeans and T-shirts.
If taller boots are your passion, this season option abound. Sleek, knee-high boots are a classic. Paired with leggings, skinny jeans, short or long dresses alike, a simple black pair should be a staple in every woman's wardrobe. Or, find yourself a pair of knee-high neutral-hued boots and wear those with just about anything as well.  
If you aren't afraid of heights, try a pair of over-the-knee boots on for size! I remember a good friend of mine had a pair of these in burgundy suede that she paired with a pair of burgundy tights and plaid wool button-up shorts. This year, these boots are a classic in leather and suede, and in neutral shades to sleekest black, and they double as leg warmers to boot (pun fully intended)! 
Now, if you need to feel more grounded, look no further than lug-soled or platform boots, which are also seen on the runways this winter. Platform boots make me wish I had never thrown out those Steve Madden's that got me through my twenties. These things scream retro in a great way! Lug-soled boots are another staple for any Wisconsin winter. Feminine yet edgy, lug-soled boots can be worn walking through slush on your way to the office and don't require switching to a more sophisticated pair. They are sophisticated in their own right and offer traction and solid footing in an unsteady world. Pair them with jeans—rolled, cuffed, or cropped—these boots can imitate rain boots, emulate sleek, black leather "planks," or take a casual sneaker silhouette. 
Bright hues were in abundance on runways this year and shoes and boots were no exception. 
Most boots can be had in vivid colors and even bright white! No style precludes experimenting with a little color once in a while. In addition, coziness has become an important factor when choosing some kinds of boots. Fuzzy accents appeared on all kinds of accessories this year. A pair of boots with fur inside could just be the ticket to your warmest winter yet!
Be they practical or super stylish, you are bound to get compliments on your boots this season if you get yourself a pair that suits your fancy, or bust out a pair you stored away from your past. Fashion is always a cycle; similarly boots always stand the test of versatility and variety.