Loaded Mac Stuffed Footballs
by Carly Cerniglia
Grab your gear and load up! It's finally football season! Since we'll all be home watching the games, we're going to need to have an arsenal of delicious halftime recipes. This beauty is a quick and easy recipe that will make everyone a fan, even if they aren't rooting for the same team. I've loaded up this gooey mac and cheese with bacon and scallions and stuffed it into a loaf of crusty Italian bread. Once the bread is gone, there's plenty of leftovers to feed the whole team!
1 lb box cellentani pasta
6 slices center cut bacon
1 can condensed cheese soup
1 ¾ cup milk
1 8 oz block mild cheddar, grated by hand
¼ tsp garlic powder
A generous shake of smoked paprika
A shake of onion powder
A few dashes of your favorite hot sauce (or more for a kick!)
A squirt of Dijon mustard
2 scallions, sliced
1 or 2 loaves of rustic Italian bread, shaped like an oval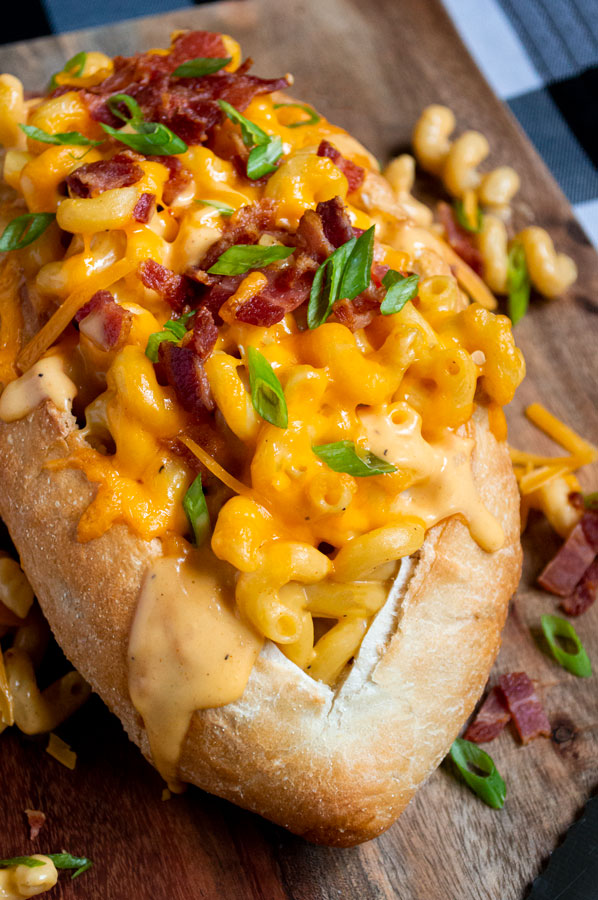 Preheat oven to 375 degrees Fahrenheit. Bring a large pot of water to a boil and cook pasta al dente. While pasta is cooking, fry bacon until crisp. Drain oil and gently wipe out pan, keeping some bacon bits and grease in the pan. Add cheese soup and milk and gently heat til incorporated, stirring constantly. Once melted, add in ¾ of the cheddar cheese. Stir until incorporated. Add in seasonings and mustard. Turn off heat. Drain pasta once cooked and DO NOT RINSE. Add the pasta to the cheese sauce and stir to coat. 
Hollow out the loaves of bread, leaving about ¼ to ½ inch of bread around the outside. (keep removed bread for snacking) Place in oven for 3-5 minutes. Remove from oven and fill with mac and cheese until overflowing. Top with cheddar and chopped bacon and return to oven for 8 minutes. Remove and top with scallions. Serve and enjoy! Leftover pasta can be eaten or saved for future meals.