Crab Cake Eggs Benedict
by Carly Cerniglia
It's time to spoil Mom and our alternate Moms again for everything they do! What better way to celebrate than making them crab cake eggs benedict? This dish hits every taste note: creamy, crunchy, crispy, bright, saucy, fresh, and delicious! While it may look daunting at first, it is, in fact, quite easy to make. The recipe below uses canned crab for convenience, but if you can find frozen, use it!
Makes about 6 crab cakes, 3 servings.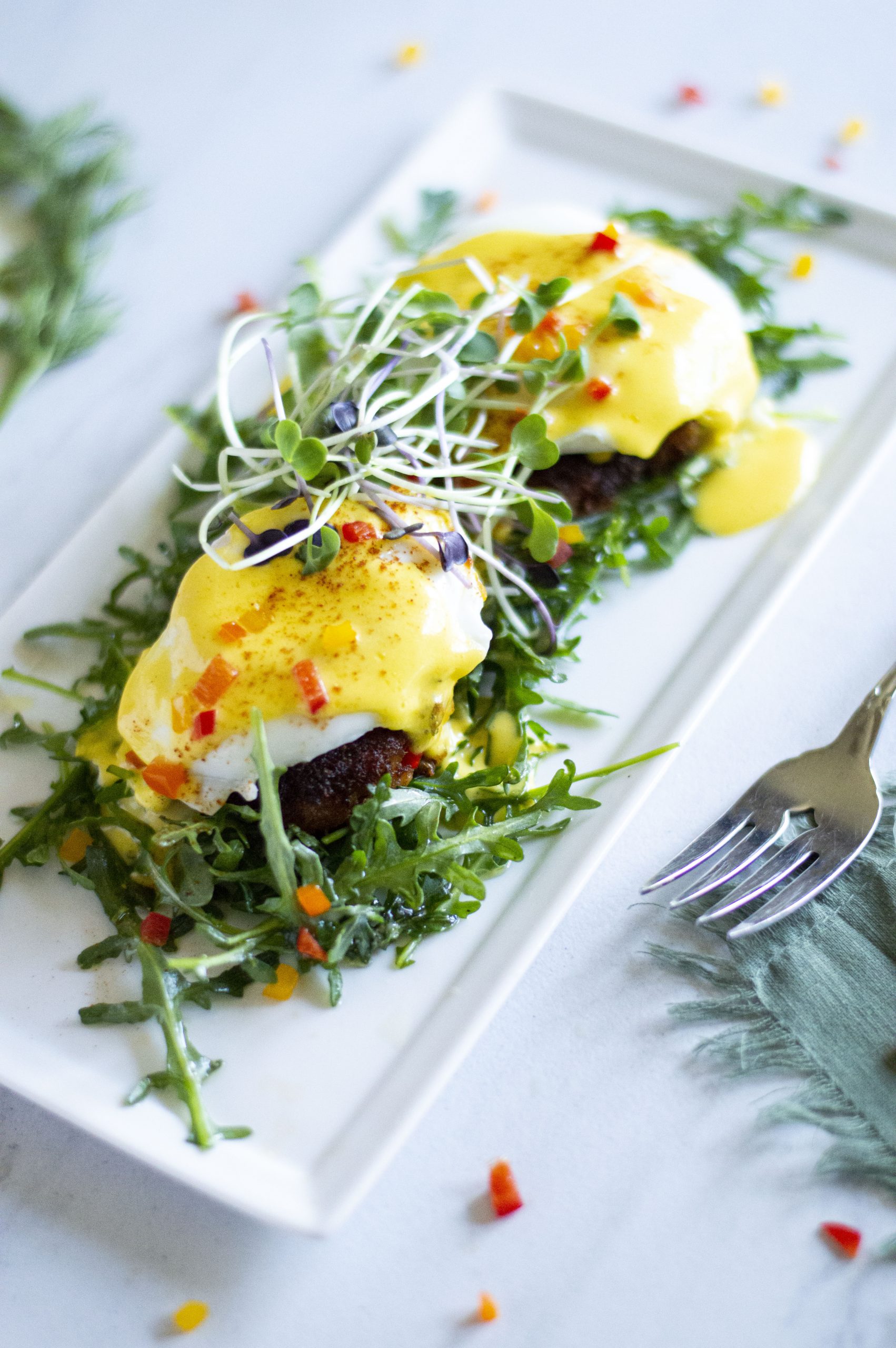 Crab Cakes: 
Two 5-ounce cans of lump crab, drained OR 9.2 ounces fresh lump crab meat
2 tablespoon red, yellow, and orange bell peppers, small diced 
1 tablespoon fresh dill, chopped
1 tablespoon fresh parsley, chopped
¼ teaspoon onion powder
¼ teaspoon garlic powder
⅛ teaspoon seasoned salt, or more to taste
¼ teaspoon smoked paprika 
⅛ teaspoon white pepper (or a pinch of black pepper)
Zest of 1 lemon
2 teaspoons lemon juice
¼ cup + 2 tablespoons unseasoned breadcrumbs
¼ cup light mayo
1 egg
½ teaspoon Dijon
2 teaspoon Old Bay seasoning
Canola or vegetable oil for frying
Dressing: 
¼ cup olive oil
1 tablespoon Dijon mustard
2 teaspoon lemon juice
2 tablespoon fresh dill, chopped
Salt and pepper to taste
Hollandaise: 
3 egg yolks
½ cup hot, melted, unsalted butter
1 tablespoon lemon juice, or more to taste
1 teaspoon Dijon mustard
Salt to taste
To Assemble:
Arugula
Microgreens of choice (I used radish) 
Eggs
Preheat oven to 350 F. 
For Crab Cakes:
Mix all ingredients together, less the oil. Shape into palm sized patties. Working in small batches, heat a pan with about ½-¾ inch of oil. Fry crab cakes for 3-5 minutes on each side, or until golden. (A metal spatula works best for this.) Set on some paper towels, and transfer to a sheet pan. Keep warm in the oven while making batches, allowing all cakes to cook for at least 5 minutes. 
For Dressing: 
Mix ingredients until they are incorporated. 
For Hollandaise: 
In a blender, mix egg yolks, lemon juice, salt, and Dijon. Drizzle in hot butter while the blender is running. Blend until thick and light yellow. 
Bring a shallow pot of water to a boil. Poach the desired amount of eggs. 
To Assemble: 
Toss arugula with a few spoonfuls of dressing to coat. Arrange on a plate. Layer crab cakes, poached egg, and top with hollandaise. Sprinkle with extra smoked paprika for garnish, and top with microgreens. 
Enjoy!