Harvest Medallions

by Carly Cerniglia
Are you looking for a vegetarian Thanksgiving appetizer or side dish? Well, I have the one for you! These little bites are delicious, and who's to argue when there's TWO forms of potato in these bad boys? We have smoky, cheesy, mashed potatoes topping a slice of sweet potato, garnished with a sweet and salty pop of nuts and fruit. This easy appetizer hits all the Thanksgiving cravings in one bite. These will be a showstopper at your next event!
Makes about 40 medallions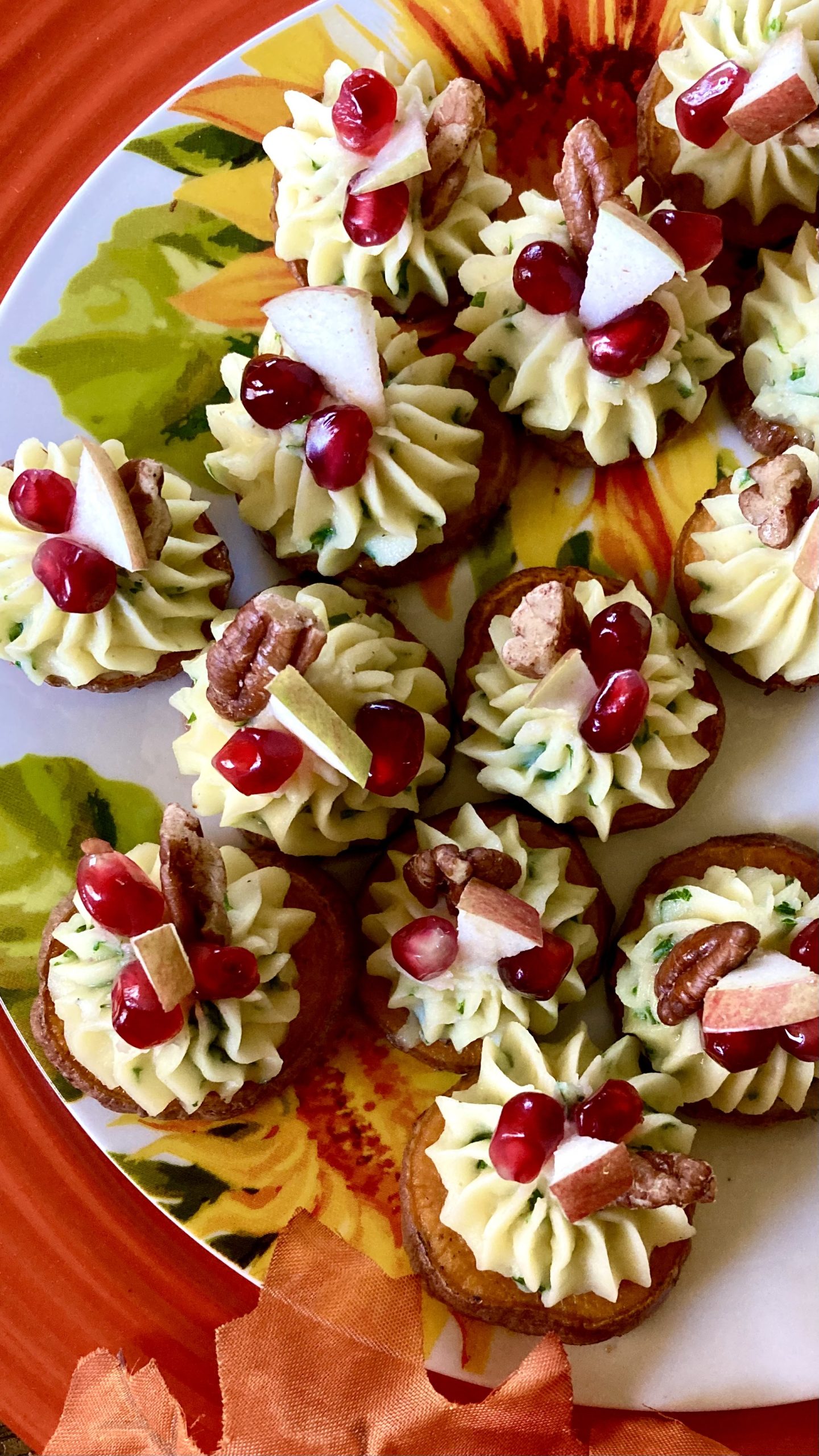 Three 1 ½-inch to 2-inch circumference sweet potatoes, sliced into quarter-inch medallions 
Cayenne pepper
Six palm-sized mashing potatoes, peeled and diced
¼ cup kale, chopped fine
¼ wheel of Boursin cheese
1 cup shredded smoked gouda
¼ cup heavy cream
3 tablespoons butter
Salt and pepper to taste
Pomegranate seeds
Chopped pecans
Apple slices
Maple syrup
Preheat the oven to 425 degrees. Line a sheet pan with aluminum foil and spray with cooking spray. Evenly space out sweet potato medallions and spray them with pan spray. Sprinkle with salt, pepper, and cayenne to taste. 

Bake for 10 minutes. Remove from the oven and set aside. 
While baking your sweet potatoes, boil your mashing potatoes in salted water until fork tender. Drain and let steam in the pan for five minutes. Add butter, heavy cream, Boursin cheese, gouda, salt, and pepper to taste. Beat with a hand mixer until smooth. Beat in kale. Transfer mixture into a piping bag with a star tip. Let cool a bit if too hot to handle. 
Pipe potato mixture onto sweet potato medallions. Warm in the oven for a few minutes, if needed. 
Top with pecans, pomegranate seeds, and apple slices and drizzle with maple syrup. 
Serve warm and enjoy!