Chewy Peanut Butter Cookies 
by Carly Cerniglia
Peanut butter cookies are my father's favorite, but I'm not a huge fan of dry, sugar-coated cookies. So, I mixed up my favorite type of cookies, the big, chewy kind, with his favorite classic peanut butter. These cookies are delicious and best warm out of the oven, and once cool, drizzled with chocolate. So tasty and satisfying, you'll be eating one, or two…or six!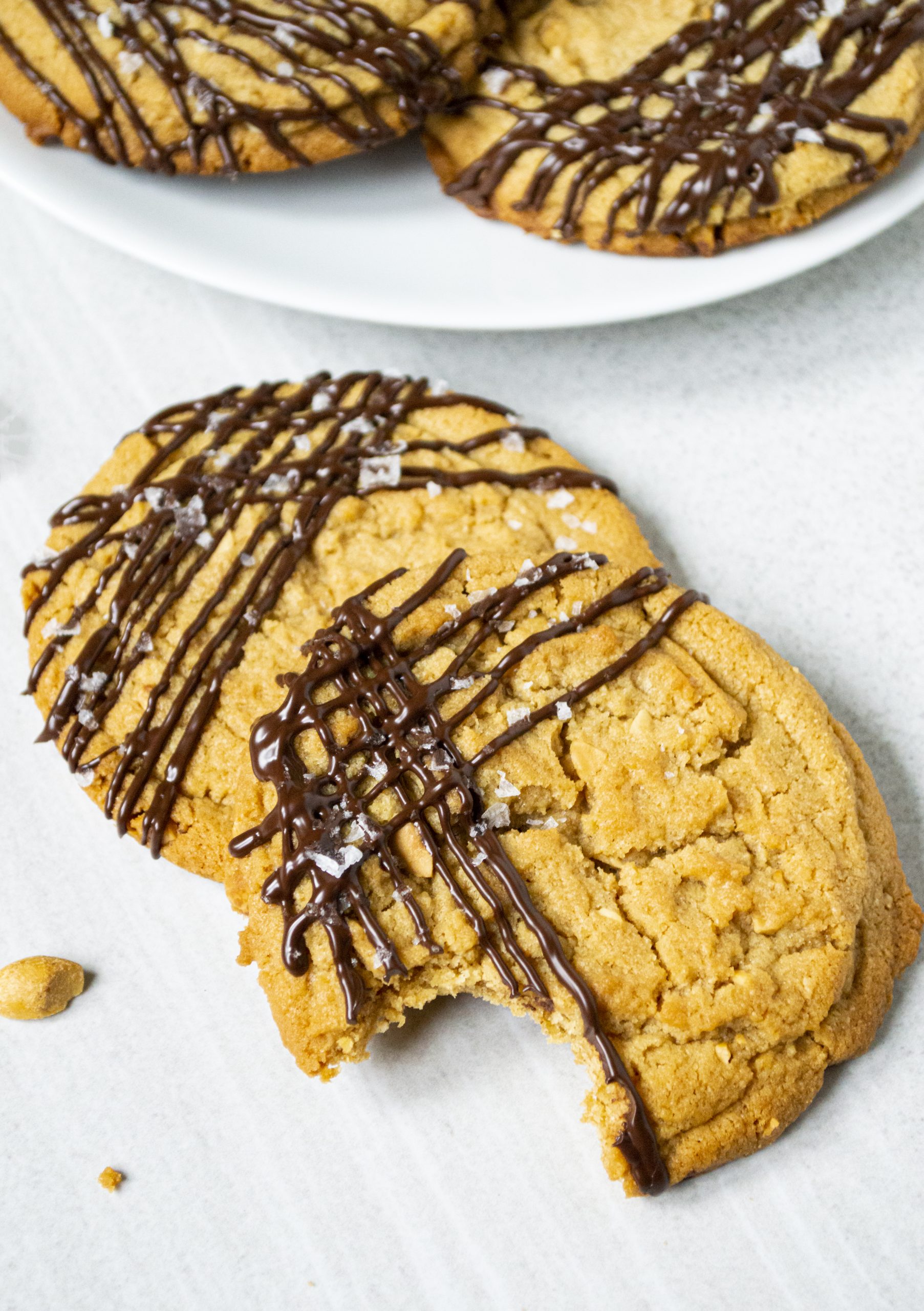 Ingredients:
½ cup unsalted butter, softened
½ cup smooth peanut butter
1 cup white sugar
½ cup dark brown sugar
1 egg
2 tsp vanilla
2 T water
1 ½ cup flour
½ tsp baking powder
¼ tsp salt
½ cup dry roasted lightly salted peanuts, finely chopped
½ of a dark chocolate bar
Maldon sea salt flakes
Directions:
Preheat oven to 350 degrees Fahrenheit. Line two baking pans with aluminum foil, dull side up.
In a stand mixer, cream butter, sugar, and salt together. Add in sugars and mix until fluffy. Mix in egg, vanilla, and water. Mix in flour and peanuts until just incorporated. 
Scoop ¼ cup spoonfuls of dough onto the cookie sheets, four to a pan. Bake for 10 minutes then slam the pan against a heat proof counter five times. Return to oven for two minutes, then repeat. Repeat until cookies have been baked for 16 minutes. They will be flat and golden brown on the edges. Remove pans from oven, let cool 5 minutes then transfer to wire rack. 
Once cookies are cool, melt dark chocolate and drizzle over cookies, then sprinkle with sea salt flakes. Enjoy!
Black Forest Cupcakes
by Carly Cerniglia
This month, I was asked to make a cake for my neighbor's mother. Her request was Black Forest Cake and I have never made one before. All the recipes I found were slightly different and not quite what I wanted. So I combined what I found and created these classy cupcakes. With a sweet cherry filling, dark chocolate cupcake, and light whipped frosting, these are oh-so-satisfying. A little gold dust on the cherries took these from ordinary cupcakes to elegant treats. The trick to the frosting is stabilizing it with gelatin. This keeps the frosting from melting so they will last a few days (if you don't eat them all first!). These are a must-make for the chocolate cherry lover in your life.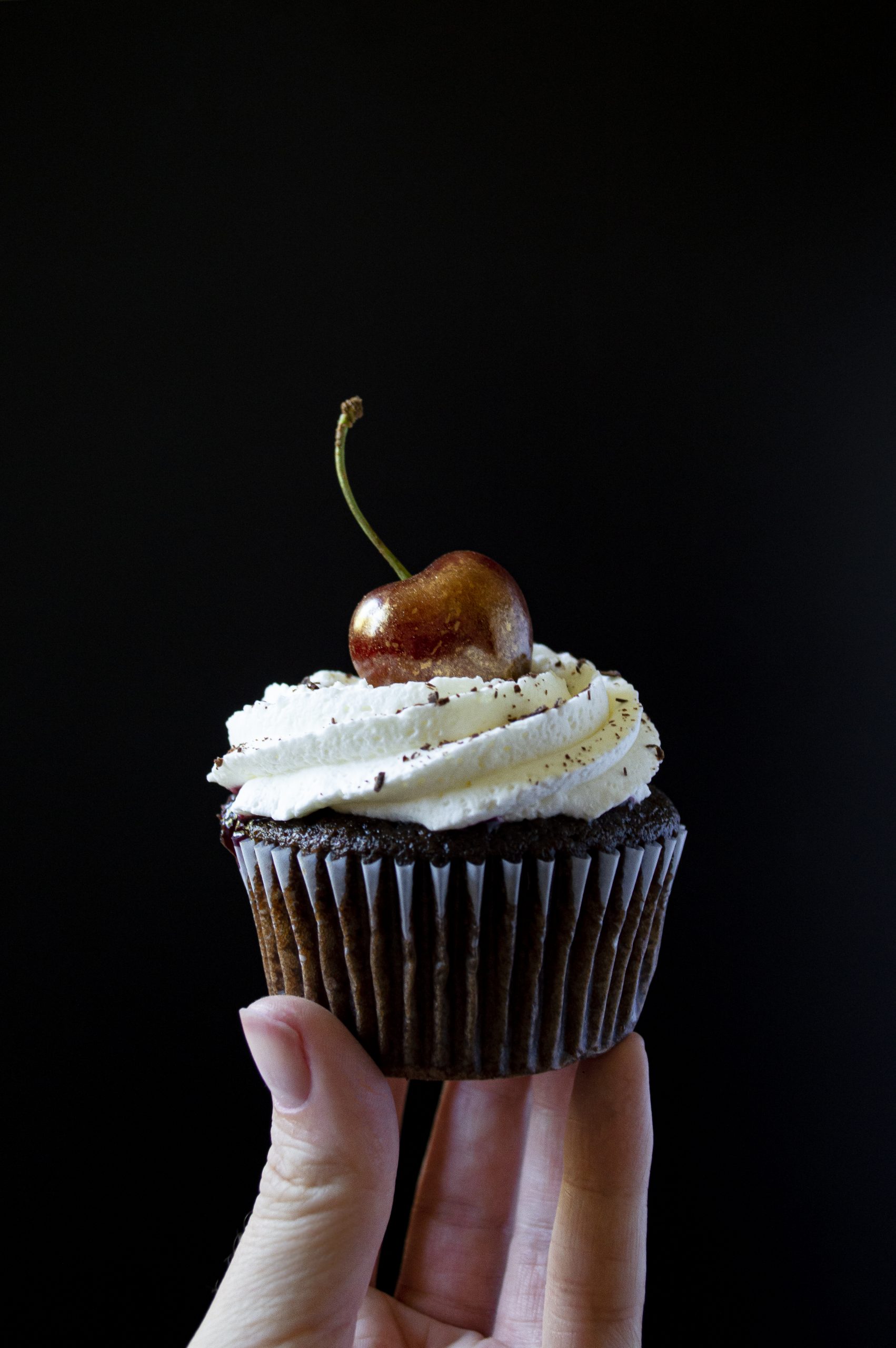 Ingredients:
For the Cupcakes:
2 cups sugar
2 eggs
⅔ cup sour cream
1 cup butter, melted
½ cup heavy cream
½ cup good quality cocoa powder
½ cup strong brewed coffee
2 cups flour
1 ½ tsp baking soda
½ tsp salt
1 tsp good quality vanilla
For the Filling:
4 cups of cherries (20 ounces)
2 1/2 T whiskey
1 ½ T sweet cherry juice
1 tsp lemon zest
1 tsp good quality vanilla
1 ½ T cornstarch
3 ¼ + ⅛ cup sugar
For the Frosting:
3 pints heavy cream
3/4 cup powdered sugar
1 tsp vanilla
3 tsp gelatin powder
12 tsp water
Chocolate shavings
Fresh Cherries
Gold Luster Dust
Directions:
For the Cupcakes:
Preheat oven to 325 degrees Fahrenheit. Line cupcake tin with liners. Mix melted butter with the cocoa powder until smooth. Add in heavy cream and coffee. In a medium sized bowl, mix eggs, sour cream, sugar, salt, and vanilla. Add chocolate mixture slowly to sugar mixture, stirring rapidly to temper the eggs. Once all the chocolate mixture is incorporated, add in 1 cup flour and the baking soda. Stir until mixed. Add in remaining flour until just mixed in. Scoop evenly into cupcake liners. Bake for 20 to 25 minutes or until a toothpick inserted in the center comes out clean. Let cool a bit and transfer to a cooling rack. 
For the Cherry Filling:
In a small saucepan, add all filling ingredients. Heat on medium heat for 10 to 15 minutes or until mixture becomes thick and bubbly. Remove from heat and cool. Refrigerate until cold. 
For the Whipped Cream Frosting: 
Mix gelatin and water in a small bowl. Microwave in 10-second increments until gelatin is dissolved. In a stand mixer, whip heavy cream, vanilla, and powdered sugar until medium/stiff peaks form. Strain gelatin and add to whipped cream with the beaters running. Whip until peaks hold their shape. Do not over whip. 
For assembly:
With a paring knife, cut a small hole in each cupcake, saving the tops. Place a spoonful of cherry filling (make sure to get a cherry in each) into the holes, and close with the saved tops. Pipe whipped cream on top of cupcakes with a star tip. Sprinkle lightly with chocolate shavings. Top with real cherries painted with luster dust. Enjoy!
Store in the refrigerator until 30 minutes before eating
If you have extra filling and whipped cream, enjoy as a parfait or top pancakes with it!
Grand Ol' Flag Cookies 
by Carly Cerniglia
If Betsy Ross were a baker, I'm sure she would have made these Grand Ol' Flag Cookies! While I don't recommend overzealous waving of these cookie flags, I do recommend patriotic photo ops and lots of munching. A super simple shortbread recipe and a few lollipop sticks get you an easy, fun holiday treat. And as a bonus, after you enjoy the cookie, the sticks can help you measure social distance!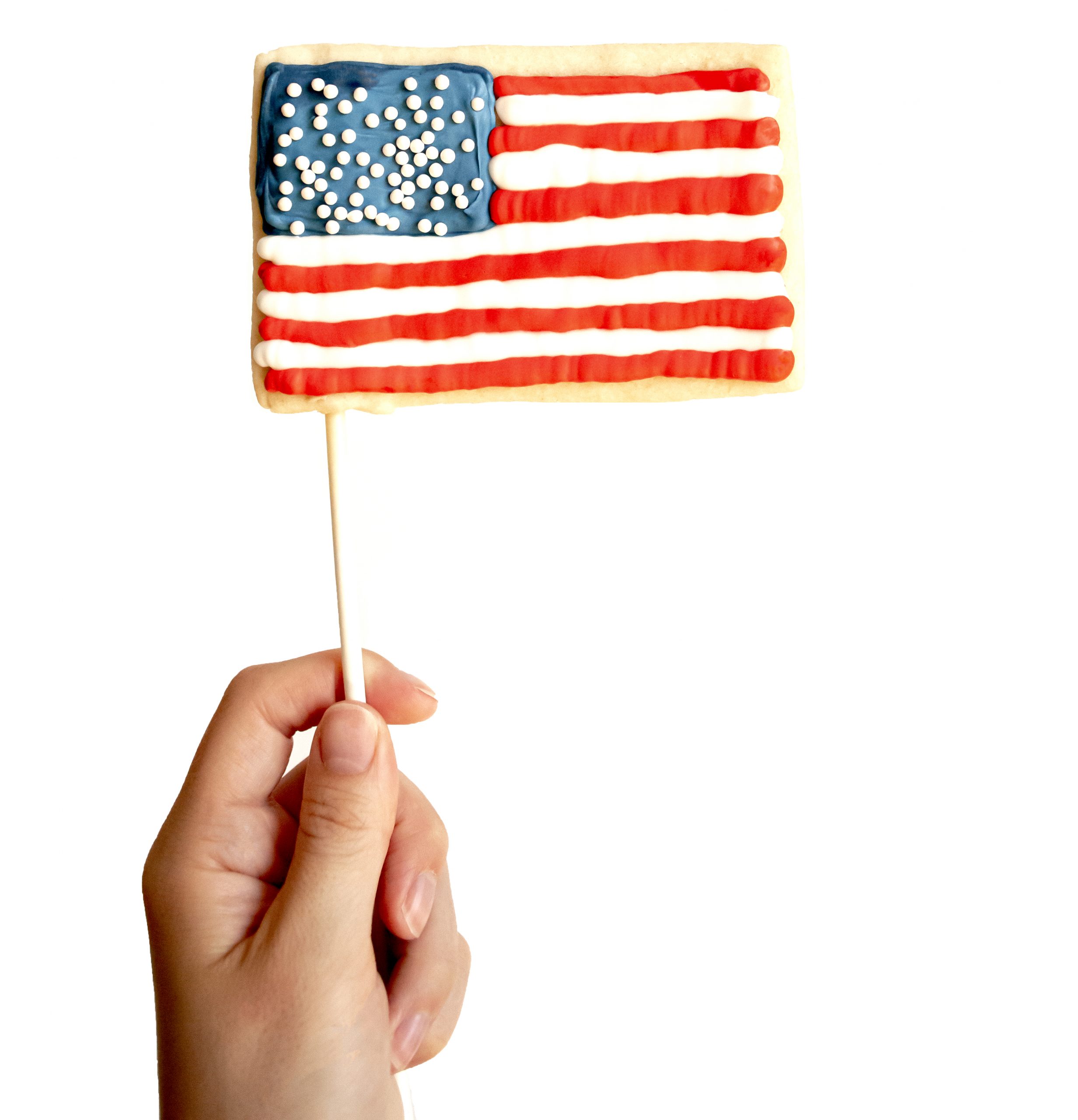 Ingredients:
For the Cookies:
3 ¼ cup flour
¾ cup sugar
1 ½ cups unsalted butter, room temperature 
For the Icing:
4 cups powdered sugar
3 T meringue powder
Food color in red and blue (I used cornflower blue)
5-7 T water (I used 7 on a dry day)
Lollipop sticks
Square cookie cutter (or use a knife)
Piping bags
White sprinkles
Directions:
Preheat oven to 300 degrees Fahrenheit. Place a sheet of parchment paper on a cookie sheet. In a stand mixer, cream butter and sugar. Slowly mix in flour. On a floured surface, roll out dough to ¼ inch thick. Cut out rectangles. Roll scraps into a thinner piece and cut out small strips the full length of your rectangle. 
Place large rectangles onto parchment (about 4 per sheet). Place a lollipop stick on the edge of each of your rectangles to resemble a flag. Press stick gently into dough. Top stick with the thin strips, and press dough together gently. Poke each cookie with a fork a few times to allow for a flat baked cookie. 
Bake for 15-20 minutes. Let cool on the baking sheet for a few minutes, then carefully transfer to a wire rack. 
Whip icing ingredients together on low speed (save the food color) for 10 minutes. Add more water if icing is too stiff. You want it to hold up, but not be too hard to pipe. (It should hold a drizzle shape on the surface of the icing for 10 seconds before melding back into the batch.)
Transfer ¼ of icing into a smaller bowl, and add in blue food color until desired shade is reached. Take out half of the remaining icing and dye red. Transfer your 3 icing colors into separate piping bags. Pipe on your blue squares first, following each square immediately with sprinkles. Then pipe your alternating red and white stripes. Let dry overnight. Transfer to a serving dish or cookie baggies and enjoy!