Kitchen Convenience

by Carrie Meier
Guess what I did? I cooked a "real" dinner. This may not seem big-time, but for me, it was. I'll admit (in the food edition!), I lack an affection for cooking. My culinary apathy, paired with four hangry children, turns out meals with less searing and sautéing and more slinging and slopping. I'm hopeless.
But I was inspired. Despite my deficits, I entered my kitchen in a moment of grace, and began to delve. I wish I produced an amazing meal. I didn't. However, my heart sang as I fell back in love with my kitchen design. While I won't offer you my burnt leftovers, here are some of my secret ingredients to a great kitchen:
Drawers: Cavernous cabinets don't make sense. My mother would send me spelunking all the time for everyday odds and ends. It would require me climbing over the Pyrex, past the crock pot, between the breadbaskets, and beyond the hidden garbanzos (which I put there because … yuck), just to retrieve the meatloaf pan! Now older and wiser, I designed our kitchen with deep, sturdy drawers where pots, pans, and even the crock pot wait in an organized fashion. I even have corner drawers! If you've pinched your finger in a Lazy Susan or spun that wheel dozens of times just to find one thing, google "kitchen corner drawers". I recommend pegboard systems; easily customizable to reorganize your space. If you aren't planning on new cabinets, retrofit your existing lowers with pull-out shelves.
Stainless Steel Work Surfaces: I salvaged a stainless table from an old cheese factory, and it serves dutifully as my kitchen island! Hot pots go directly on it without fear of marking the surface. Spills and science experiments (I'm describing my cooking), proceed without staining. It's a workhorse I can truly deep clean. Instinctively we opt for finishes that hide dirt, but your kitchen counter SHOULD NOT be one of them.
Open Shelving: Be bold. Open shelving defines professional kitchens for an obvious reason: accessibility! Clients lament about dusty plates. If you have dusty plates, you aren't eating enough. Eat more and wash your plates. Problem solved. Open shelving comes in many styles, so personalizing is easy! My favorite is the combination of our pot rack over that beloved stainless table, totaling 20 square feet of open shelving. I grab the spaghetti noodles, sauce, pot, and strainer without moving my feet. I love it.
Single Basin Sink: Here's the deal, we all need to wash oversized stuff.  Whether it's that amazing wok or, in my case, a squirming toddler, a single basin sink is awesome. If you prefer a double to conserve water, a single basin is transformed quickly by integrating a removable stainless wash bowl. You now have the option of a double or single basin AND you can wash that stainless bowl in your dishwasher on sanitize! If you need more space to dry your dishes, check-out a roll-up over-the-sink drying rack … game changer!
As always, recipes evolve to fit personal taste and utilize available ingredients. Kitchen design is no different. It'll require ingenuity to retrofit the flavors your palette prefers, but if I can learn to cook something edible, you can conquer a successful design. So, let's toast to diligence and grace for both of us! Bon Appe-designing!
My House and I: An Introduction
by Carrie Meier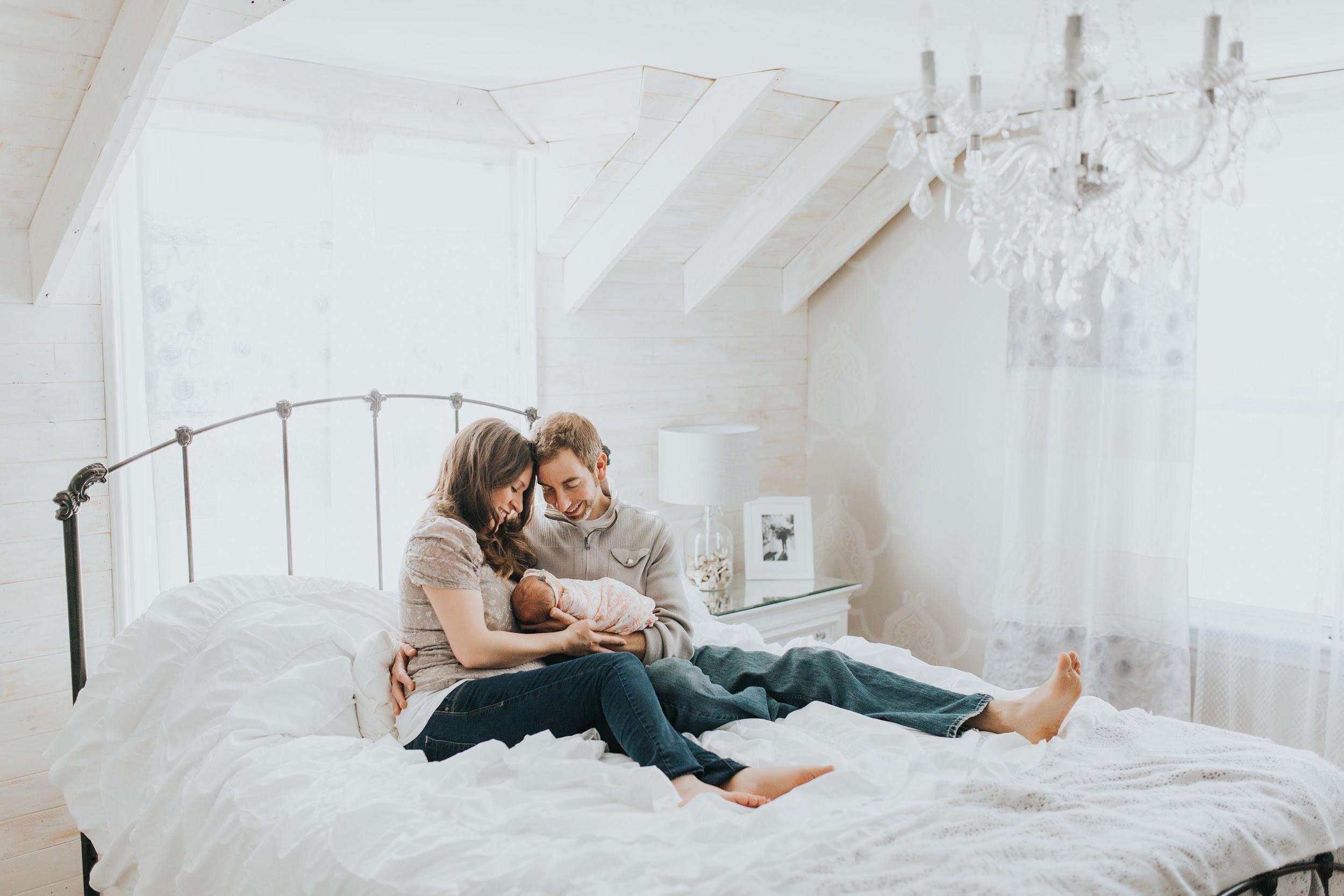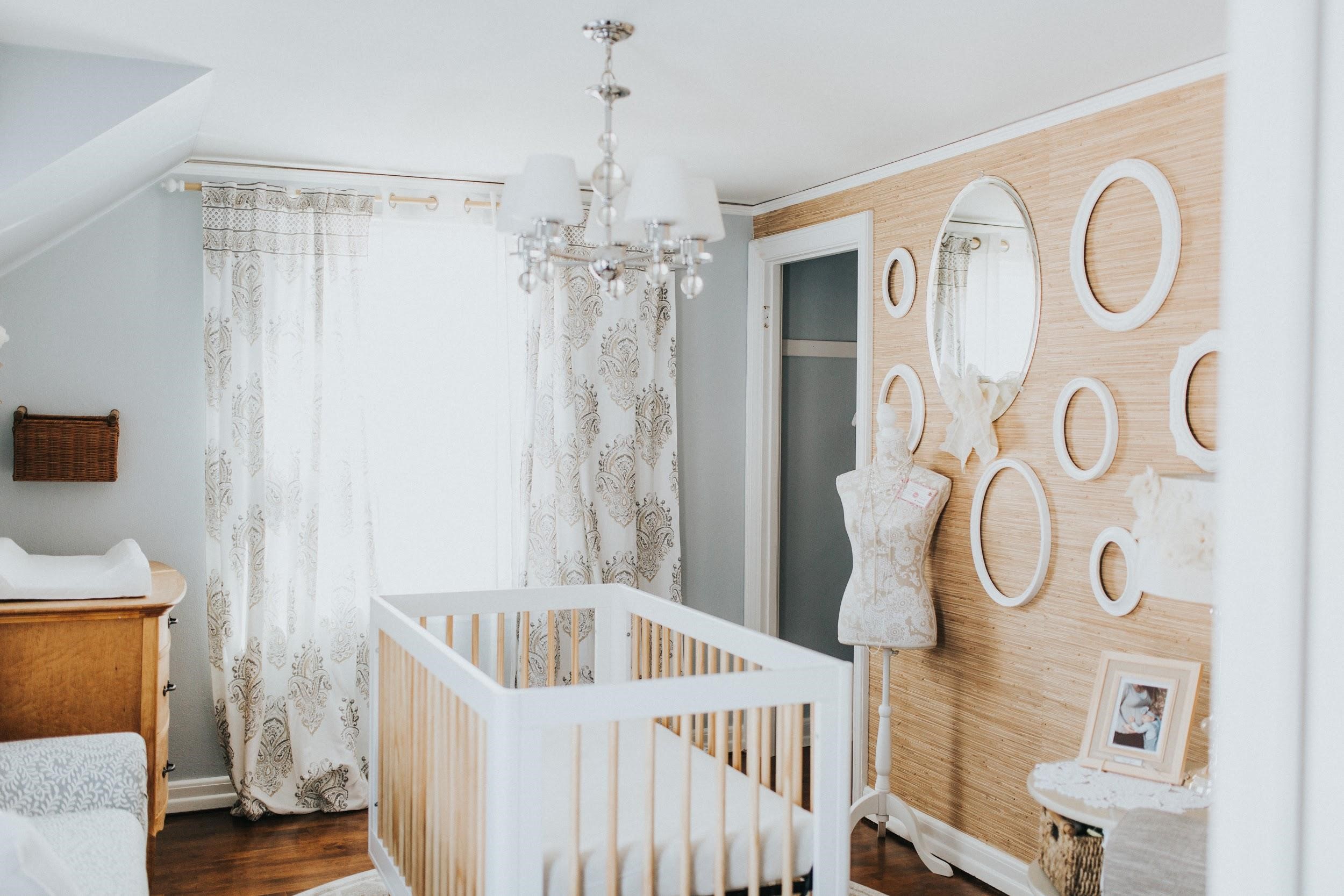 With this, my first article, I want to introduce not only myself, but the true star of my interior design journey and our current quarantine VIP, my house. I must immediately disclose I have a vigorous obsession with interior design; therefore, my articles will certainly take on a personal tone. I can't help it. Our house is us. Its hallways are fashion runways and festive parade routes. Its walls; exclusive exhibit space for my children's art. Its rooms have harbored us without judgement during the most difficult conversations my husband and I have ever had. I have brought my babies home confident it will provide them safety in their most fragile moments. My house is a testimony of unconditional love, and if you and yours are like me and mine, practicing safer-at-home guidelines, "home" has taken on a profound new meaning.
Don't get me wrong, our house has put us through the ringer. While MANY buyers ran for the hills, my husband and I purchased it 10 years ago, and have committed much of this decade to tearing it apart and putting it back together. We've done everything from foundation to roof, replacing windows, rewiring, replumbing, adding-on, redecorating, landscaping a pond, a waterfall, paver patios, a hardscaped fire-pit, and heirloom gardens. We've labored to maintain the character of our 100-year-old home, while creating functional, updated, stylish spaces that work for our modern family. We began as a crew of 2, quickly recruiting family and friends working for pizza and 6-packs. Transforming our house to home has been a marathon effort!
DIY remodels are not for the faint of heart. They aren't ideal for young newlyweds who would seek college degrees, career changes, face a grounding diagnosis of M.S. and its roller coaster of treatments, and a 6-year journey of unsuccessful fertility treatments, all to end up with the unscientifically-aided birth of four children in four years! Life has been chaotic and sort of a blur. I'll never forget that my house lacked a kitchen for three years, that only naked rafters divided my first and second stories for months, or being six months pregnant, bathing in a kiddie pool, using a shower hose attached to the free mud sink I had picked up off the roadside. It sounds crazy, but it brings me IMMENSE joy and pride thinking of those moments. Within those stinky, sweaty hours of work, there were moments of learning, growing, and connecting I could not have experienced in any other capacity.
I realize I haven't provided any specific design tips, so here's my first bit of advice (and the moral to my introductory story): love the project THROUGH the pain. Just like my house, one that has put my husband, myself, and many of our friends/family through hell, it is to be appreciated at EVERY. STEP. OF. THE. PROCESS. Because even if you find yourself enduring a project that stretches your patience, your ability to see the good bones and maintain the vision will end up paying in dividends. 
Don't lose faith in it, and your home will be fiercely loyal, providing you solace, safety, and escape, no matter how chaotic its contents may be. And for that, my friends, you must know its worth, no matter what stage of life you are in! 
Countertop considerations
by Anastasia Reetz
Kitchen countertops are a primary feature of any kitchen. Not only do they offer an aesthetic layout to the space, countertops also provide essential workspace. With so many different types and styles of countertops, making the perfect choice to suit your needs, tastes and desires may be somewhat of a challenge. Because countertop selection is one of the most important decisions about your kitchen, it requires thought, understanding and insight. As such, I put together a short list of surfaces to help you navigate the myriad choices available to you.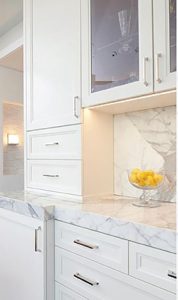 Laminate
TREND ALERT: A leathered finish is one option.
With improved graphics, longer-lasting surfaces, and better edging techniques, laminate countertops are finding their way into more homes. They are much more cost-effective than other man-made or natural products. One of the biggest sticking points was the undermounting of the sink. Traditionally, this has not been possible. But more recently, with high-pressure laminates and waterproof rolled edges, undermount sinks can be successfully and safely bonded to the bottom of laminate countertops.
Marble
TREND ALERT: extending the countertop material up the backsplash.
Marble countertops consistently remain the top choice for many homeowners, primarily because they offer a lovely, natural pattern and colors not typically found in other types of natural stone. As beautiful as it is, marble lacks general durability that's required in some kitchens. It is a more porous stone by nature and requires good sealers to help with staining and a more gentle care since it is a softer stone as well.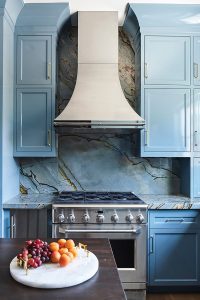 Quartz
Quartz countertops are often called engineered countertops because they are fabricated from natural silicon dioxide and synthetic materials. Loose quartz makes up about 93 percent of the material. It is blended with a binder and pigment and then formed into countertops.
Being a man-made product, it has an advantage in consistency over natural products. Quartz requires very little maintenance. It wipes clean with a damp cloth. Abrasive cleaners should not be used on quartz, and they really aren't needed. Ease of maintenance is the main advantage quartz countertops have over quartzite.
Quartzite
While more expensive than granites, marble and quartz, quartzite countertops have become very popular. It boasts a sophisticated look, natural strength and low maintenance. Each slab will vary as it is uniquely created by nature. Quartzite resists extreme heat and cold and will not burn, scorch, or discolor. If you do have a scratch, it can be easily repaired or re-finished if needed.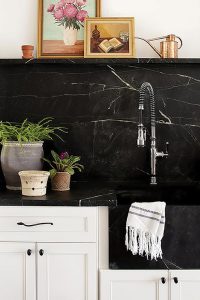 Granite
TREND ALERT: Dark countertops add drama and sophistication.
Granite remains a popular choice in countertops for its beauty, durability and its selection. Granite is extremely hard to scratch and it tends to withstand normal wear and tear of daily kitchen activities. When properly sealed granite can last a very long time, and complement your kitchen in a subtle way or be a showstopper and a center of attention.